Farage to avoid 'gatecrashing' rival conferences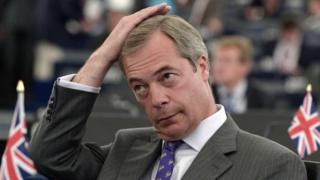 Nigel Farage is likely to steer clear of fringe events at other party conferences this autumn - as UKIP tries to move away from "gatecrashing" rival gatherings.
Mr Farage was not allowed to enter the security zone at the Conservative Party conference in Manchester last year, although he did speak at several meetings organised by think tanks or lobby groups.
One Tory MP reportedly walked out of an event at which the UKIP leader was speaking.
Nigel Farage has been invited to speak at several fringe events, at both the Conservative and Labour conferences in September and October, hosted by a polling firm and a think tank.
But a party source said they did not think he would accept any this year, adding: "The feeling is we have moved on from gatecrashing the conferences of other parties."
'Biggest' UKIP conference
Although Mr Farage is the best known UKIP politician, there is nothing to stop other leading figures speaking at rival party fringe events.
The UKIP leader's office made it clear there is no ban in place and the party does not have a whipping system - where it instructs its elected members on official business - which could prevent others from attending.
When UKIP members meet for their conference in Doncaster at the end of September it is likely to be the biggest such event the party has held.
UKIP's party conference in London last year was overshadowed when Godfrey Bloom, at the time one of its most outspoken MEPs, referred to women as "sluts" during a debate at a fringe event.
In May, the party got the biggest share of the vote in the UK's European elections, and is targeting getting its first MPs elected at next year's general election.