O'Donnell warns over release of Davey letter to No 10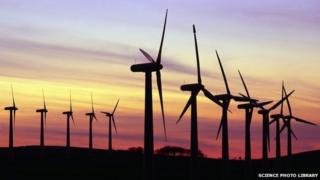 A former cabinet secretary has warned that releasing a letter between the energy secretary and No 10 would be "detrimental" to good government.
Lord O'Donnell said "in an ideal world" ministerial rows should be in private.
Lib Dem Ed Davey wrote a letter of complaint to the PM after then Tory Energy Minister John Hayes told papers in 2012 he opposed new wind farms.
The Information Rights Tribunal is considering an FOI appeal against a decision not to release the letter.
Request refused
If the letter, and other documents, are disclosed it would be the first time a letter between a secretary of state and the prime minister has been released following a Freedom of Information request.
The row began in October 2012 when Mr Hayes told the Daily Mail and the Daily Telegraph he opposed further wind farm developments, saying there were enough wind turbines in the planning pipeline to meet government targets by 2020 and that "we can no longer have wind turbines imposed on communities".
Then, in an interview with the Guardian newspaper on 23 November 2013, Mr Davey said he had asked his private secretary to write to the prime minister's private secretary to point out that Mr Hayes' remarks went against agreed government policy.
Mr Davey also said he had sought legal advice over whether these comments would put the department at risk of judicial reviews.
The letter is one of a series of documents about the departmental row that were requested in November 2012 by both the BBC and Guardian newspaper.
That request was refused by the Department of Energy and Climate Change (DECC) - prompting the Information Commissioner's Office to be called in to decide whether they should be published or not.
In December 2013 the information commissioner ruled the letter should be made public, as well as some other information requested.
But DECC appealed against the decision and the case went to the tribunal to be heard by an independent panel.
Lord O'Donnell, who had finished his six year stint as cabinet secretary by the time the row happened, was called as a witness by the DECC to give evidence on the rules that govern how ministers communicate with each other and the Press.
He questioned Mr Davey's decision to go public over his disagreement with Mr Hayes, who was known to oppose further onshore wind farm development when he was appointed energy minister in September 2012.
"If certain speeches had not been made, we probably wouldn't be here today," the peer said.
It was common for a secretary of state to express concerns about one of his junior ministers off the record, but rarely on the record, he said.
But if the letter is released it would have "a detrimental impact on good government".
Mobile phones
Correspondence between cabinet ministers can be withheld from publication using an exemption in the Freedom of Information Act, although government departments have a duty to consider whether it would be in the public interest to release the information.
Lord O'Donnell said freedom of information laws had had an impact on how ministers communicate with each other.
"Ministers are much more aware," he said. "There are discussions I would like to have seen take place in writing taking place on mobiles."
A large part of the tribunal was heard in closed session, so that members of the public and press did not hear about the information under dispute.
Due to the complexity of the arguments involved and new information given by Lord O'Donnell, the judge decided the tribunal should be adjourned and both DECC and the Information Officer's Office should revise their arguments before the case can be reheard.
Mr Hayes, Conservative MP for South Holland and The Deepings, is now a transport minister.