David Cameron cautious over Iraq's history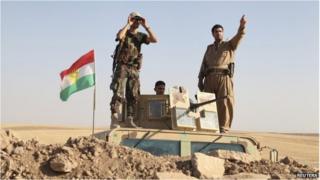 Almost a year ago, the shadow of the Iraq war hung over Syria.
The Assad regime had been accused of crossing a "red line" by using chemical weapons more extensively in what was, in effect, a civil war.
The prime minister conceded people were "war weary" after Iraq but despite saying he wouldn't repeat the mistakes of that conflict - he wouldn't put "boots on the ground" - he couldn't marshal his parliamentary forces to back swift air strikes against the Syrian regime.
He was narrowly defeated on the key parliamentary motion by just 13 votes, but just as there was no political consensus then for direct military intervention on a tight timescale, Downing Street sources believe that political support cannot be guaranteed for direct participation in air strikes against the Islamic State (IS) militants in northern Iraq.
The focus remains on the humanitarian effort, with British military aircraft preparing to drop tents and tarpaulins for those trapped in the Sinjar mountains to provide much-needed shelter from the elements.
But they have no plans to drop bombs.
The option wasn't even discussed at the emergency Cobra meeting chaired by the defence secretary on Friday.
Election run-up
So does the shadow of Iraq now hang over... well, Iraq?
Downing Street cannot say that military action will be ruled out indefinitely. Circumstances and opinions can change. But in the run up to a tightly fought UK election, the mood isn't gung-ho.
While logistical support will be provided to the Americans - refuelling and surveillance - there are no joint military operations on the horizon.
Part of the difficulty is the requirement for parliamentary approval.
The prime minister could exercise the royal prerogative and authorise action.
But with a "consultative" vote by MPs on the last Iraq conflict, and votes on Libyan air strikes as well as on Syria, it is inconceivable that any major escalation of the current conflict in Iraq - and any UK military response to it - would not be debated and voted upon at Westminster.
The prime minister did get the support of 557 of parliament's 650 MPs over Libya even when opinion polls suggested that between 30% and 40% of the public were opposed to British involvement.
So he could lead from the front this time, too, and argue for a more robust response to IS if there is evidence of atrocities and requests from the Iraqi authorities for assistance.
But that's high risk if you want to appear as a strong leader in the run up to next May - it's more likely that any prospect of a Syrian-style humbling will be kept off the agenda for as long as possible.