UKIP rejects claims Farage has opted to fight Kent seat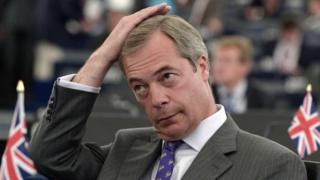 UKIP has dismissed reports that Nigel Farage is planning to try to become an MP in the Kent constituency of Thanet South.
Speculation has been rife about where the UKIP leader will stand since his party won the May European election.
The local UKIP secretary told the Financial Times it was the "worst-kept secret in town" that Mr Farage was on the candidate list.
A party spokesman said the candidate selection process was still under way.
He added that a shortlist had yet to be put together for hustings this month, let alone a candidate selected.
Mr Farage has suggested in the past that he favours a Kent constituency because he has a connection with the area.
He contested Thanet South at the 2005 general election but came fourth with just 5% of the vote - slightly less than the UKIP candidate in the seat in 2010, Trevor Shonk.
Extra twist
Conservative Laura Sandys - who is standing down as an MP next year after just one term - won with a majority of 7,617, although the seat has also been held by Labour in the recent past.
If Mr Farage did enter the Thanet South contest, it would have an extra twist because the Tory candidate is a former UKIP leader. Craig Mackinlay briefly led UKIP in 1997 when it was still a fledgling outfit.
Mr Mackinlay said that, as one of the founders of UKIP and with a 22 year record of campaigning on Europe, he "can't understand" why Mr Farage would want to stand against him.
"It would be a strange move," he told BBC News. "With my background it seems an odd choice. I can't understand it".
He said that in the past UKIP had not stood in seats against other Eurosceptic candidates.
"It seems there are other seats that would better serve the soldiers in the field fighting for changes in Europe. To fight against me would be a strange way to go about it."
The popularity of the Eurosceptic party has surged in recent years and it now regularly polls more than the Liberal Democrats. It won a record 24 seats in the European election in May, which is decided by a form of proportional representation.
But UKIP has failed to attain what it sees as the biggest prize of all - a seat at Westminster - owing, in part, to the first-past-the-post voting system at general elections, which makes life difficult for smaller parties.