Clegg's 'regret' over missing wreath tribute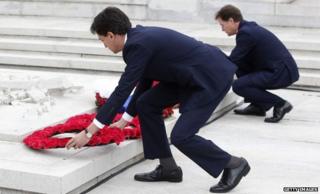 Nick Clegg said he felt "regret" that he was not given the chance to write a personal message on a wreath laid in Glasgow to mark the 100th anniversary of Britain entering World War One.
Neither he nor Labour's Ed Miliband were given an opportunity to pen a remark - yet David Cameron's wreath had an accompanying hand-written tribute.
The deputy PM told LBC radio he would have liked to have written a card.
He said he had been "loud and clear" about his feelings on this.
But the oversight should not diminish the dignity of the occasion, he said
All three party leaders paid tribute to those who served in World War One during a ceremony at Glasgow's Cenotaph.
A note attached to Mr Cameron's wreath read: "Your most enduring legacy is our liberty. We must never forget."
A spokesperson for the Department for Culture, Media and Sport said the same wreaths and pre-written messages had been provided to all wreath-layers.
"Some chose to write personalised messages," a spokesman said.
Mr Clegg said he had made it clear to the organisers that "I would have liked to have had the opportunity, which I wasn't given, to write a personal message".
Asked if he felt frustrated or upset about the oversight, he said: "It was just a feeling of regret that I was not given that opportunity."
The first ministers of Scotland, Wales and Northern Ireland, as well as Mr Miliband had also been unable to sign their wreath, he said.
But the event was organised with "military precision" and "you do what you are told".
Given the opportunity, he would have expressed his "everlasting gratitude...for the extraordinary sacrifice of those who lost their lives in World War One - their sacrifice has allowed us to enjoy our freedom and that's something we feel very grateful for and I think everybody does".
Mr Clegg added: "Clearly everybody understands that I would much prefer to have been given the opportunity [to write a note] - which I wasn't given and many other people were not either. The organisers understand that loud and clear."