Cameron must push Israel over Palestinians, say MPs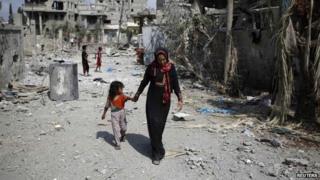 David Cameron must do more to persuade Israel to lift restrictions on the movements of Palestinians, MPs say.
The Commons International Development Committee said some controls on the movements of Gazans - who are rarely allowed to leave the territory - were not "proportionate"
It also urged ministers to persuade Israel to improve the supply of water and electricity.
The government said it was "committed to lasting change" in Gaza.
Mr Cameron has said he is pushing for an "unconditional ceasefire" in the territory.
Israel launched Operation Protective Edge on 8 July with the stated aim of ending rocket attacks and destroying tunnels used by Palestinian militants.
Gaza officials say the four-week conflict has killed more than 1,800 Palestinians. Some 67 Israelis have also died.
'Suffering'
The committee's report came after Foreign Office minister Baroness Warsi resigned from the government on Tuesday, calling its policy on Gaza "morally indefensible".
This followed criticism from some Conservative MPs, who have called Israel's response to rocket attacks from the Hamas group "disproportionate", a sentiment echoed by London Mayor Boris Johnson.
Downing Street said it was urging both sides to negotiate an "immediate and unconditional ceasefire".
The cross-party committee, whose members visited Israel and the Occupied Palestinian Territories earlier this year, said it had been "shocked" by what it had seen in the West Bank city of Hebron.
It said: "We saw a country whose people have known immense suffering now imposing conditions on their Palestinian neighbours which cause a different but very real suffering and often without real security justification.
"We saw Israel taking a range of actions that hinder Palestinian economic development and must, at the very least, cause deep resentment on the Palestinian side, even amongst the most moderate and pragmatic people, and so will actually worsen Israel's own security."
A 72-hour truce - brokered by Egyptian mediators late on Monday - came into force at 08:00 local time (05:00 GMT) on Tuesday.
A government spokesman agreed that "sustainable development can only happen if economic restrictions are eased".
He added: "We will continue our work to help strengthen Palestinian institutions and build a prosperous and stable future Palestinian state. We are also committed to lasting change in Gaza, though we recognise that reconstruction and growth cannot happen until we have a durable ceasefire."