In quotes: Baroness Warsi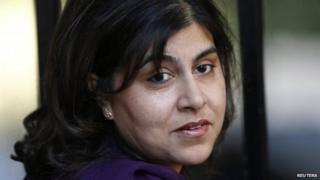 Baroness Warsi, who has quit government over its stance on Gaza, is known for her plain-speaking style. Here are some of her most memorable quotes, compiled by Emma Bishop.
April 2005
"I will campaign strongly for an end to sex education at seven years and the promotion of homosexuality that undermines family life." From her campaign literature when standing as a Conservative candidate for Dewsbury, West Yorkshire.
30 September 2007
"They [BNP supporters] have some very legitimate views. People who say 'We are concerned about crime and justice in our communities - we are concerned about immigration in our communities'."
30 November 2009
Speaking after a group of Muslims in Luton threw eggs at and accused her of not being a proper Muslim, she said the perpetrators were"idiots who did not represent the majority of British Muslims".
14 May 2010
"To be born as the daughter of an immigrant mill worker in a mill town in Yorkshire, to have the privilege of serving in cabinet at such an important time in Britain's history, I think it is terribly humbling." On becoming the first Muslim to serve in a British cabinet.
25 May 2012
"Due to an oversight, for which I take full responsibility, the flat was not included on the Register of Lords' Interests when its value and the rent received came to exceed the thresholds for disclosure." Apologising after failing to declare rental income in the House of Lords register of interests.
30 October 2013
"The prime minister announced yesterday that we want to become the first country outside the Islamic world to issue an Islamic bond, a sukuk…[this] will help to cement Britain's position as the leading player for Islamic finance, and help to deliver my vision of an Islamic finance market that never sleeps." Speaking about the UK government's first Ministerial Task Force on Islamic Finance, which she established and co-chaired.
1 November 2013
"I think I would be as offended if I was told 'Actually you must wear a miniskirt to work because that's that we like women to wear' as I would be if somebody came to me and said 'We want you to be covered from head to toe because that's what we like woman to wear'." Speaking about restrictions on wearing a veil in public.
14 November 2013
"There are parts of the world today where to be a Christian is to put your life in danger… I want to call for cross-faith, cross-continent unity on this issue - for a response which isn't itself sectarian. Because a bomb going off in a Pakistani church shouldn't just reverberate through Christian communities; it should stir the world." Writing about the persecution of Christians and other minorities in the Middle East.
5 August 2014
It is"morally indefensible, is not in Britain's national interest and will have a long-term effect on our reputation internationally and domestically". On the government's policy on the Gaza crisis.