Profile: Baroness Warsi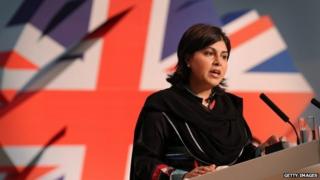 Baroness Warsi, who has quit the government over its Gaza policy, was the embodiment of everything David Cameron wanted the public to believe had changed about the Conservative Party under his leadership.
The working-class daughter of Pakistani immigrants, who grew up in West Yorkshire, she was the first female Muslim to sit at the cabinet table.
When she walked up Downing Street for her first cabinet meeting, dressed in a traditional South Asian salwar-kameez, it was a landmark moment in British politics.
She told reporters: "To be born as the daughter of an immigrant mill worker in a mill town in Yorkshire, to have the privilege of serving in cabinet at such an important time in Britain's history, I think it is terribly humbling."
She was the Conservative Party's co-chairman, but also a minister without portfolio, with licence to speak out on a range of issues, such as what she saw as the rise of Islamophobia in Britain.
Inquiry
Educated at Leeds University, Sayeeda Warsi describes herself as a "Northern, working-class roots, urban, working mum".
In 2004, she gave up her job as a solicitor - and a £130,000 annual salary - to stand for Parliament in her home town of Dewsbury, West Yorkshire.
She lost to Labour's Shahid Malik, but was given a peerage to enable her to enter the shadow cabinet.
She served as a special adviser on community relations to previous Conservative leader Michael Howard and became a vice-chairman of the party in 2005.
When David Cameron made his bid for the party leadership at the 2005 Conservative conference in Blackpool, it was Sayeeda Warsi who introduced his speech from the Winter Garden stage.
Fluent in Punjabi, Urdu and Gujarati, she has a daughter, but her 17-year marriage ended in divorce five years ago.
The 43-year-old's time in government has not been without incident.
In 2012, Mr Cameron ordered an inquiry into whether she had breached the ministerial code by failing to declare that she had been accompanied by a business partner on an official visit to Pakistan.
Lady Warsi wrote a letter of apology to Mr Cameron, saying she was "sincerely sorry" for the embarrassment to the government.
'Uneasy'
But the inquiry concluded that she was guilty of only a "minor" breach of the ministerial code.
She was later cleared of abusing expenses by claiming for overnight stays at a property she had been using for free, although she was found to have breached rules by failing to declare that she had been renting out her own London home.
A few weeks later Lady Warsi was moved in Mr Cameron's first reshuffle, losing her job as Tory Party co-chairman, a job she had shared with Michael Fallon.
Grant Shapps was appointed party chairman in her place, but Baroness Warsi stayed in the government as Minister for Foreign Affairs and Faith Groups after apparently insisting Mr Cameron give her a more substantial role.
Her plain-speaking style meant she was rarely out of the headlines.
In 2007, she was accused of pandering to the BNP - a claim she described as "ludicrous" - after she told a Sunday newspaper immigration had been out of control and was making people "uneasy".
'Influential'
In 2010, she provoked a storm of protest by claiming electoral fraud "predominantly within the Asian community" had cost the Conservatives three seats at the general election, although she declined to name the seats in question.
On another occasion, a row erupted after she was reported as saying: "Muslims that go to Parliament don't have any morals or principles."
Her comments were made in Urdu, at a private dinner, and she said they had been misinterpreted.
"I said that the definition of a good MP is someone that stands up for their constituents and who understands the communities they represent, not necessarily someone that ticks a particular ethnic box," she explained in a statement.
Baroness Warsi has said her admiration for Conservative principles is inspired by the example of her father, who made his way from working in a mill to running a £2m-a-year bed-manufacturing company.
In 2010 she was named one of the world's "500 most influential Muslims" by Middle East think tank the Royal Islamic Strategic Studies Centre. She also topped the UK's Muslim women power list.