Iain Duncan Smith: Ready to sail into sunset?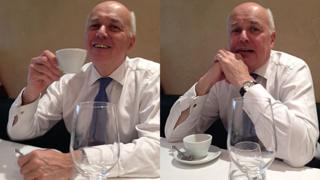 Iain Duncan Smith shuffles along the bench to take his seat opposite me in a Westminster restaurant buzzing with hobnobbing hacks and politicians.
I've met Iain Duncan Smith in his various guises over the years; Maastricht rebel in the 1990s, the "accidental" Tory leader, the dethroned Tory leader and now Secretary of State for Work and Pensions.
But I still need to remind him of our last meeting. "Yes, yes, no - yes, it's coming back to me." It isn't convincing.
A helpful waiter hovers, pen ready and Iain Duncan Smith launches into florid Italian. "I love the Italians, I love the food, I love the country," he says.
In his present incarnation he's probably at his most powerful, but at his least politically ambitious.
"I don't have political ambitions at all." This may partly explain how he survived the recent reshuffle, despite the cull of the male, pale and stale.
"I want to ask you something…" I start. "Ok," his eyes blink slowly.
"About the reshuffle." Big pause.
"What reshuffle?" A dead pan delivery.
Before the official announcement, speculation about his future circulated, but when a phone conversation was overheard on the Chichester to London train by a passenger which she then posted on Facebook, the speculation shot up into unexplored orbits.
In seconds we were all picking up the fag ends. "Someone called Iain is leaving the DWP (apparently he wants to go and has agreed to go)," we read.
"There was that phone call," I venture. Iain Duncan Smith leaps in.
"No, No, NO… all I know is that the person they were talking about was not me, and whoever was listening to it thought they were talking about me, because I was never asked to go and never was going… the answer is don't talk on bloody trains."
He goes on. "I was just puzzled about it really, then I realised they were talking about someone else. I can't tell you who it was."
"Someone called Iain?" I'm guessing now. "No, no, NO." "Sounds like Iain?"
Eventually he puts an end to my annoying questions by swotting them with: "I can guarantee that I know."
The food arrives. We dig in. The conversation moves on to the life in the Westminster bubble. He isn't a fan.
"I find the whole business of politics funny, it's really quite bizarre and stupid. Just all this stuff running around briefing against each other and it doesn't actually change the price of bread. It's just people not being able to do anything else but gossip about other people," he says.
"Somebody said the other day that the cabinet meeting now might as well be held in public because, frankly, at least some of the stuff we say might get out correctly rather than as it does, with everybody else briefing."
His mission is to continue to push through his welfare reforms, which cause some to spit blood. The Labour MP Glenda Jackson stuck it to him in the Commons, as did a senior churchman who called them a "disgrace".
Even his own side has taken swipes, albeit off the record. But he insists the reform is not only about saving money but lives too.
Benefits hardships
It's an understatement to say it hasn't all been plain sailing. Iain Duncan Smith rocks back on his bench when I put some of these criticisms to him, that he is vain, authoritarian and emotionally remote.
"What does that mean?" he asks.
"I just know that I should be doing this, this is what I set out to do. You can either see politics as a nice little career which you come into, try and get a couple of things done, but if you don't so what, doesn't really matter, at the end day the most important thing is that you have a personal career structure. I don't see it like that at all, I see it as a vocation."
He says he doesn't care about the critics: "I'm really not bothered about that."
And what of those stories of people suffering hardship because of benefits being reduced or not paid. "These stories about people in difficulty didn't start the day I walked through the door. But of course those stories are sad and I want to find out about them - the speed with which you pick those up is what you really test yourself on.
"The reality is that the change itself should help resolve that, if you don't change it they're still going to be screaming."
We move onto other subjects. Whether or not men can wear glasses perched on their heads (women can, he thinks, but men look silly and he taps his bald pate).
He spoke of his admiration for Lady Thatcher
He also talked about the difficulty of being ousted as Tory leader and how he and William Hague compared notes.
When we come to coffee and the last dregs of our lunch, I ask him whether he looks forward to leaving the political world. There are buckets of wistfulness in voice when he answers.
"At some point, er, yes, to a degree. Well you know, just get on a yacht, a sailing boat - it could be only 5ft long for all I care - and just sail off, and, er, put it all behind you."
"Head towards the horizon," I say.
"Wherever the horizon may be, and not turn back… not turn back at all."
* You can hear Becky Milligan's report on her lunch with Iain Duncan Smith on Tuesday's PM on BBC Radio 4, which is on air from 5pm to 6pm. You can also listen to the programme afterwards on the PM website