The reasons MPs give for stepping down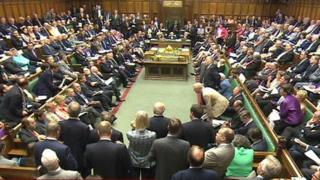 Politics is a precarious business but unlike many workers, MPs can determine the precise nature and time of their own departure.
The latest to do so is Mark Simmonds, who resigned on Monday as a Foreign Office minister and said he would step down as an MP next year. He said he was doing so because the parliamentary allowances (£27,000 a year) "does not allow me to rent a flat (in London) which can accommodate my family".
Nearly one in ten MPs have already said they will not contest their seats at the next general election, with some revealing their intentions to quit Parliament years before they actually have to stand down.
Statistics suggest being an MP is now seen as more of a job rather than a lifetime's vocation. Between 1950 and 1979, there was only one election at which more than 70 MPs "retired".
In contrast, since 1983, those departing have exceeded 80 on four occasions, most notably in 2010 when the legacy of the expenses scandal saw a mass clear-out of 149.
But what reasons are MPs giving, and not giving, this time around for exiting Parliament...?
---
A fresh challenge
The most common reason given by MPs for leaving Westminster is the desire to experience something new.
Being an MP may be one of the most exclusive and varied jobs out there - there are only 650 spots available and incumbents get to work from two locations - but even the most rewarding work can begin to pale if done for too long.
Tony Benn, one of the post-war generation's most respected parliamentarians, famously said he was quitting Parliament to devote more time to politics.
Few MPs talk openly about what they want to do next, often preferring to dwell on the need for a better work-life balance and to spend more time with their family.
Some are more explicit in their ambitions. Former health secretary Andrew Lansley recently talked of his hope of landing a major "international job".
For others, it is about exploring the hinterland that they have previously neglected. After years circling the globe as foreign secretary, William Hague expressed his wish to focus on his writing career which, unlike some former MPs, extends beyond the standard political memoirs and into award-winning biographies. He is also widely expected to resume the lucrative after-dinner speaking career he developed in his backbench years from 2001-2005.
---
Ambition fulfilled/thwarted
Politics is a greasy pole and for every MP going up, there is one coming down.
A host of former Cabinet and middle-ranking ministers from the last Labour government and the current coalition are heading for pastures new - which for some could be a seat in the House of Lords.
Politics is a revolving door and the hope of returning to government one day is never out of the question - witness Nick Gibb's surprise recent return as education minister after a gap of two years.
But the reality is that, in an era of coalition politics, most ministers leaving office will not grasp their red boxes or travel in their ministerial cars again. The allure of the backbenches, after an absence of many years, is not strong enough to keep many of them in the Commons.
There are, of course, exceptions with Ken Clarke vowing to carry on as an MP despite his ministerial career, which spanned four decades, apparently having come to an end.
---
A good innings
There is no upper-age limit for being an MP. Winston Churchill retired from Parliament when he was 90 while Sir Edward Heath was nearly 85 when he called time on his 51-year parliamentary career.
But with MPs now tending to retire earlier, there is inevitable speculation about those in the autumn of their careers.
Father of the House Sir Peter Tapsell is among a handful of octogenarians to announce their exits this time around. His local party chairman said the 84-year old MP did not believe it was "sensible or realistic" for him to continue, but said he would be a hard act to follow as many younger MPs came to him for advice.
However, some of the House's most longstanding members are planning to stand again in 2015, including 82-year old Dennis Skinner and 81-year old David Winnick.
Announcing his decision to leave the House, 74-year old Frank Dobson said recently that he would rather people asked why he was no longer an MP than why he still was.
---
Exhaustion/boredom
Despite the length and frequency of parliamentary "recesses", being an MP involves long, often unsocial, hours and is one of the few professions where people get pilloried for taking a holiday.
It can lead to burn-out. Several MPs standing down have cited the decades' worth of commitment they have given to public service, starting from when they were first selected as a prospective parliamentary candidate.
For others, Parliament does not turn out to be quite the magnetic experience they had hoped for.
For those who fail to get a foot on the ministerial ladder or find their own niche - such as a dogged select committee inquisitor or a backbench rebel - then Parliament can turn out to be a frustrating place.
---
Off to earn money
While an MP's salary - currently £67,060 - is more than double the average UK wage, some MPs believe they are underpaid and the independent body responsible for their pay agrees and thinks they should get more.
While it is rarely spoken of publicly, newspaper reports and memoirs of politicians are littered with references to politicians leaving Parliament to either make money or to spend more time with their money.
High-profile figures can earn a lot from speaking engagements, memoirs and consultancies.
Former prime minister Tony Blair was recently forced to reject claims he was worth £100m saying: "Cherie is kind of asking where it is. I'm not worth a half of that, a third of that, a quarter of that, a fifth of that, and I could go on."
Many backbenchers supplement their basic parliamentary income in various ways.
However, MPs with experience in specialist fields, whether it is defence, energy, or finance - either as ministers or select committee members - will always be a valuable commodity in the private sector if they choose to move on.
MPs used to be compensated for merely relinquishing their jobs - whether or not they fought an election or not - but so-called resettlement grants have been scrapped for those stepping down voluntarily.
---
Fear of losing
Most MPs who stand down from Parliament are praised for their service. The longer they have served the more generous the praise. Most of those represent safe seats or ones they could reasonably expect to win.
Unfair though it may be, MPs in marginal seats tend to be treated differently. They are generally seen as, to coin a Thatcher phrase, "frit".
The MP with the most marginal seat in 2005 - Labour's Laura Moffatt in Crawley - decided not to contest it the next time around. The seat changed hands at the 2010 election.
However, this has not always been the case. In 1997 and 2001 the MPs with the smallest majorities were re-elected with much larger ones the next time around.
---
No choice in the matter
While most MPs have the luxury of deciding the manner of their exit, a few do not.
A handful have been officially de-selected in recent months by local parties who have decided their time is up - while others have been quietly advised not to put their names forward as their parties look for fresh blood.
Occasionally, there is a personal controversy that surrounds an MP that prompts them to stand down, often citing the desire not to distract from the party's main goal of winning the election.
In 2009-2010, a swathe of MPs were "forcibly retired" by their party leaders at the following election because of expenses misdemeanours while one, Labour's Ian Gibson, took the rare step of resigning on the spot.
David Ruffley became the most recent MP to fall on his sword following controversy over his private life. While elections are often described as 650 individual contests, the party's victory remains the holy grail.
---
So back to Mark Simmonds
As mentioned at the start of this article, Mark Simmonds is the most recent MP to announce he is stepping down as an MP. The 50-year-old married father of three's family live in his Lincolnshire constituency.
As a Foreign Office minister he was paid £89,000 and as an MP he is allowed to claim rent for a London flat of up to £27,000 a year. But in announcing his resignation he said that his parliamentary allowance "does not allow me to rent a flat which can accommodate my family".
He said the idea of spending another five year Parliament staying in different hotel rooms "fills me with horror", adding: "I very rarely see my family and I have to put family life first."
Mr Simmonds said other MPs had echoed his concerns that the expenses system had swung too far the other way since MPs' abuses of the old system were revealed ahead of the 2010 election.
There are likely to be more MPs announcing their intention to step down ahead of next year's election. It remains to be seen whether any cite the expenses system as their reason.