Why politicians keep falling foul of secret recordings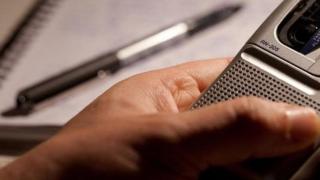 Let me introduce you to the must have political gadget right now: the tape recorder.
Or, to sound rather more 2014, any handheld, furtive little gizmo that allows a bit of secretive, if grainy, recording.
The think tank seminar, so often the sole preserve of the untreatable political nerd, has a pulling power at the moment motivated by a spot of skulduggery.
Despite protestations that they are solely in the enlightened business of making a positive case for why they should win your vote, every political party with an election on the horizon tends to indulge in a spot of negative campaigning.
Or, to put it another way, having a pop at the other side by trying to frighten people off even contemplating the notion of supporting them.
And that is where, hidden in the pocket of an enterprising researcher or intern, the tape recorder makes its entrance. The chain of events goes something like this.
A think tank, an organisation packed full of big-brained types who spend their lives thinking big thoughts and writing short pamphlets, stages a conference.
'Thinking out loud'
They hope that their big idea will be snapped up by a political party and one day become law; their small place in political history secured.
The titles for such events are often some distance short of alluring. There will be talk of prospectuses for change, values for a new era and the like.
And they often take place on a Saturday, when there are one or two other things plenty of people might find a more tempting use of their time.
Anyway, to lend these events a hint of glamour - I define the word broadly - politicians are invited to turn up to reflect and ponder, consider and muse on the political future.
To park my gentle teasing for a moment, they provide an environment that is the antithesis of the media sound bite. This is not the place to hear the 20 second slogan, but the detailed, ad lib, thinking out loud.
And the audiences are often partisan, the majority inclined to support one party or the other.
All of which might just lull the unsuspecting politician into saying something their opponents can shout about, ring up a friendly newspaper with, and invariably be quoted saying "such and such has let the cat out of the bag...."
Handed a tape
In case all this sounds a bit fanciful, let me mention two names. Oliver Letwin and Andy Burnham.
"Tories: we could tax low-paid as much as millionaires" read the headline in The Daily Mirror on Wednesday.
The paper, no fan of the Conservatives, had been handed a tape of Oliver Letwin, the Conservative Cabinet Office Minister, reflecting out loud about tax at a Politeia event.
The topic, being discussed in very broad terms, was a so-called "flat tax" - the same level of income tax levied regardless of what you earn.
Mr Letwin entertained a discussion about it, didn't endorse it, said it wasn't a goer right now but "there may come a time when the situation is different and that discussion will no doubt open up".
He didn't say he wanted a flat tax, nor that there would be one. The Conservatives said there never would be. But the story appeared nonetheless.
Next stop, The Daily Telegraph - no fan of Labour - reporting on the same day that the opposition was "resurrecting plans for a death tax".
This time it was the Shadow Health Secretary Andy Burnham at the Fabian Society summer conference.
Substitute "flat tax" for "death tax" and it's the same story as Mr Letwin found himself at the centre of.
Political ownership
Mr Burnham pontificates about how to pay for social care and repeats an idea he has articulated before but which he acknowledges there isn't public support for.
He didn't say his idea would happen, or that Labour would advocate that it should.
Labour promptly said it wasn't party policy. But the story appeared nonetheless.
And so began a day in which the Conservatives and Labour traded blows over taxes that don't even exist, and might never do so.
With the countdown to next May's general election already on, welcome to the battle for ownership of the political summer. There will be plenty more weeks where this one came from and plenty more events where those furtive tape recorders will play their part.