Ed Balls attacks 'never had it so good' prime minister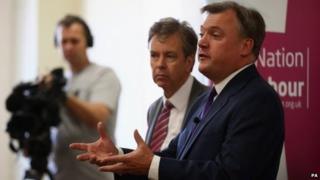 Shadow Chancellor Ed Balls has accused David Cameron of trying to ape one of his predecessors in No 10 by pretending people have "never had it so good".
Harold Macmillan used the phrase in a 1957 speech in Bedford, claiming most people were enjoying record prosperity.
Speaking in Bedford on Wednesday, Mr Balls said Mr Cameron was trying to convince people they were better off when real incomes were still falling.
Mr Balls also acknowledged Labour faced a "daunting task" if it regained power.
Figures published last week showed that UK economy has now exceeded its January 2008 pre-recession peak in terms of overall output, an event described as a "major milestone" by Chancellor George Osborne.
While it was welcome that the economy was growing, Mr Balls said it was wrong to characterise it as a "moment for celebration" when the UK was actually facing a "lost decade for living standards".
"Not only is it two years later than the chancellor's original plan said, and three years after the US reached the same point, it is also the case that, as our population has grown, GDP per head won't recover to where it was for around another three years," he said in a speech to local activists.
'Disbelief'
Labour has published analysis from the House of Commons library which it says suggests "working people" will have seen a bigger fall in wages between 2010 and 2015 than during any Parliament since 1874.
"Living standards are still squeezed and people are worried and insecure about the future," Mr Balls said.
"That old line Harold Macmillan line - 'you've never had it so good' - may have resonated in post-war Britain when he first used it here in Bedford as prime minister back in 1957.
"But nearly sixty years on, every time in Prime Minister's Questions that David Cameron tries to tell the British people that they've never had it so good, I fear it just prompts disbelief that he can be so out of touch."
Mr Cameron has professed his admiration for Mr Macmillan, who was prime minister between 1957 and 1963, and reportedly had a picture of him on his office wall when he was leader of the opposition.
But Labour has also borrowed from political legacy of a prime minister who was known as "Supermac" - Ed Miliband adopting the "One Nation" slogan that was also associated with Mr Macmillan's brand of Toryism.
Tax claims
Mr Osborne, who has blamed Labour for the "great recession", has said the recovery still has a long way to go, despite the fact the UK is expected to enjoy the strongest growth of any G7 country this year.
Speaking last week he said the government "owed it to hardworking taxpayers not to repeat the mistakes of the past and instead work through the plan that is delivering economic security".
In recent weeks, the Conservatives and Labour have traded claims and counter-claims about their tax plans for after the next general election.
Labour has rejected Conservative suggestions that it might put up taxes on middle earners, saying it is focused on helping the lowest paid by restoring the 10p tax rate scrapped in 2008 and requiring the wealthiest to contribute more by raising the top rate of tax back to 50p.
The Conservatives have dismissed Labour claims they are considering replacing all existing income and national insurance tax rates with a single "flat tax", saying they oppose the idea "full stop".
They point out that the level at which people start paying income tax will rise again to £10,500 by next April and that, as a result, three million people will have been taken out of tax altogether since 2010.