Gaza action behind rise of anti-Semitism, claims peer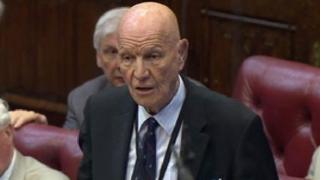 A retired senior diplomat has suggested that "much anti-Semitism is a reaction to the appalling Israeli treatment of its Arab neighbours".
Lord Wright of Richmond made his comments in the House of Lords as peers discussed reports of an increase in anti-Semitic actions across Europe.
His words were greeted with murmurs of disapproval and cries of "no".
Lord Winston said Lord Wright's logic would mean violence in Syria would cause anti-Islamic feeling in Britain.
Lord Wright, a former head of Britain's diplomatic service, said he condemned anti-Semitism in all its forms but suggested that much of it was a reaction to the way Israel treated its Arab neighbours "both in Gaza, in Jerusalem and on the West Bank".
'Innocent life'
He said the best way the UK government could avert anti-Semitic activity would be to take action with its European allies to stop the growth of Israeli settlements and what he called the "disproportionate reaction" of the Israeli military in Gaza.
His view was countered by Labour peer Lord Winston.
The fertility expert and television presenter described himself as the grandfather of children at a Jewish school in London that needed police protection.
He said the idea that anti-Semitism in Europe was a reaction to what was happening between Israel and the Palestinians was like saying "the affairs in Syria would cause anti-Islamic feeling in this country".
Responding for the government, Communities Minister Lord Ahmad said: "Anti-Semitic behaviour, irrespective of what's happening in the Middle East has no place in translating (into) action of a despicable kind against any community and that includes the Jewish community.
"We have to be absolutely clear, there are things which happen around the world. What's happening in Gaza and Israel at the moment, we all deplore the loss of life, the tragedy and the loss of civilian life, the humanitarian crisis which has taken place on the ground.
"But let me be absolutely clear. As a Muslim as well. The Islamic faith is very clear - in such situations you should protect churches, you should protect cloisters, you should protect synagogues, you protect all innocent life.
"That is the kind of message we need resonating not just in this House but throughout the country."