Stowell: I will be Beyonce of Lords despite loss of rank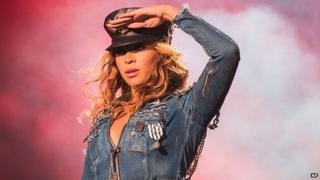 The new leader of the House of Lords has vowed to be the Beyonce of the Upper Chamber despite her loss of cabinet status.
Lifting phrases from two of the pop diva's biggest hits, Baroness Stowell said she was "an independent woman and a single lady".
The Conservative peer was one of a clutch of women to be promoted by David Cameron in his recent reshuffle.
But unlike her male predecessor, she will not be a full cabinet member.
And with a salary of £78,891, she will also be paid £22,147 a year less than Lord Hill, who was nominated as Britain's next European Commissioner.
The move sparked a revolt in the House of Lords, with peers voting on Thursday by 177 to 29 to urge the prime minister to restore their leader's traditional rank and cabinet status.
Baroness Stowell was forced to give up the cabinet seat she would normally have expected as part of her new job to William Hague.
Under rules determining expenditure on ministerial salaries, there is a limit on the number of people who can sit around the cabinet table as full members.
Mr Hague remained in the cabinet following the reshuffle despite moving from foreign secretary to leader of the House of Commons, a job that has not traditionally been accorded full cabinet rank.
'Spurious'
David Cameron has said he will look to return the Lords leader to full cabinet status as soon as possible and will do so immediately if he remains in power after the 2015 election, at which Mr Hague is retiring.
But former Commons Speaker Baroness Boothroyd said this was not good enough, saying the PM's justification for the move was "spurious".
"The prime minister, I am afraid, pays scant attention to his responsibility towards this House," she said.
"He fails to understand that we are a bicameral Parliament and, as such, we should be fully represented at the highest level of government. He has trampled on the constitution....It will not do..."
"His shuffling of this House out of its full status in the Cabinet must be reversed and it must be done soon."
Former Cabinet Secretary Lord Butler suggested another member of the cabinet should give up their salary in order to allow Baroness Stowell to take her place at the top table.
'Same job'
Baroness Stowell said she understood the depth of anger among her fellow peers about what had happened but insisted her ability to discharge her responsibilities had not changed.
"Nothing has changed in practice about how I represent this House within government and I will do the job of Leader in exactly the same way as all my predecessors," she said.
She said her role in piloting controversial legislation, such as the gay marriage bill, through the Lords in her former role as a whip, demonstrated that she could deliver "without status and regardless of rank".
And referencing Independent Women, the 2000 hit by Destiny's Child, in which lead vocalist Beyonce Knowles celebrates her financial independence, and her 2008 solo hit Single Ladies, she said she would assert her authority on behalf of the House of Lords in her own way.
"I am an independent woman and a single lady. Noble Lords may want to think of me as the Beyonce of your lordships' House," she told peers.
Tina Stowell, a 46-year-old former spokeswoman for John Major and head of corporate affairs at the BBC, was elevated to the House of Lords in 2011.