Civil Service advertises for new chief executive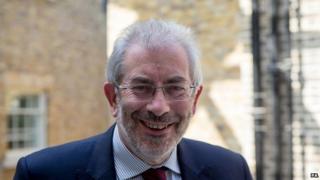 The recruitment process has begun for the new post of chief executive of the Civil Service, following recent changes at the top of the organisation.
Sir Bob Kerslake is stepping down as head of the Civil Service in the autumn, with Cabinet Secretary Sir Jeremy Heywood taking over his role.
The role of chief executive is being created to focus on reducing costs and delivering "transformational change".
A job advert suggests a candidate is being sought from the private sector
The job specification, published on the Civil Service recruitment website, says that the chosen candidate will be paid between £180,000 and £200,000 and is likely to start work at the beginning of November.
Period of change
The chosen candidate will be expected to have a proven record of managing a large complex company through a period of change.
He or she will report to Sir Jeremy, the top official in No 10, as well as Cabinet Office minister Francis Maude and Chief Secretary to the Secretary Danny Alexander in respect of their responsibility for overseeing the commercial aspects of the Civil Service and managing the government's efficiency and reform programme.
The new chief executive, who will attend cabinet as an observer, will also work "closely" with the cabinet secretary to challenge top mandarins from government departments to ensure that the government's reforms are implemented "with pace and rigour".
David Cameron split the roles of Cabinet Secretary and head of the Home Civil Service in 2012 when Sir Gus O'Donnell retired and critics have said the recent rethink of responsibilities amounts to a U-turn.
'Modest'
Whitehall experts have questioned whether whoever gets the job will have sufficient authority to challenge other senior civil servants and address some of the tensions between advisers and ministers.
"The job description shows that the new role will not be a chief executive in any sense normally recognized in either the private or public sectors," said Peter Riddell, director of the Institute for Government.
"The holder of the new post will not be responsible for either running the Civil Service or line managing permanent secretaries. The role, while important, will be more modest."
Mr Riddell also warned that the recruitment process was being "rushed", with only two months elapsing between the closing date for applications and the start date for the job.
He added: " The new post will have multiple masters and accountabilities, to the Cabinet Secretary in support of his role as Head of the Civil Service, as well as, on a day to day basis, to the Minister for the Cabinet Office."