Call for community volunteers to pay less council tax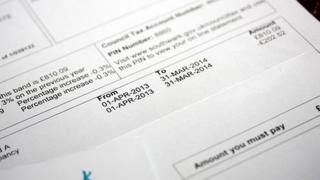 Community volunteers who help out in their local library or do charitable work should get discounts on their council tax bills, a new plan proposes.
The Local Government Association (LGA) said volunteers saved the public purse millions through their efforts and deserved some financial recognition.
It is urging the next government to give about 500,000 people in England and Wales a 10% annual rebate.
Community groups would help councils to identify who should qualify.
The LGA is calling on the main parties at Westminster to each make a commitment in their 2015 general election manifestos to introduce a new scheme that would give councils money to fund a "community contribution discount".
Councils already have powers to introduce discounts on council tax bills, with some earmarking cuts for special constables and Army reservists.
But the LGA insists that major cuts to local authority budgets in recent years make it difficult to offer reductions.
Spare time
Local authorities are asking whoever forms the next government to set up a £50m central fund to get the idea of a tax discount off the ground.
Under its plans, councils would have the power to decide what level of reduction to offer locally.
But the LGA estimates that a £50m injection of funding would allow 500,000 volunteers an annual discount of 10% for the lifetime of the next Parliament.
Those who demonstrate a "sustained commitment" to improving life in their local areas, in a way which saves other council taxpayers money, would be considered.
Highlighting the diverse work of volunteers, the LGA said more than 170 libraries were staffed entirely by volunteers, while people were providing a wide variety of other services for free, ranging from helping those with learning difficulties to inspecting danger spots on roads.
"We cannot undervalue the contribution made by those who give up their spare time to help a local charity, support the library or provide a meal and a friendly face to an elderly neighbour," said David Sparks, who recently took over as chairman of the organisation.
"The efforts of these community heroes do not just improve the lives of those they directly support.
"In these times of austerity, they have taken the strain off stretched services and lightened the load on local taxpayers."
'Great work'
The LGA believes the scheme will ultimately pay for itself and save money in the long-run by recognising the contribution of existing volunteers and encouraging others to get involved.
"We need to do more to recognise and encourage people who give up their spare time for the good of their community," Mr Sparks added.
"A community contribution discount would not only recognise the fantastic work volunteers do but could help save the public purse many millions more than it costs."
Voluntary groups and third sector organisations welcomed the idea.
"So many of the things we value most in our community are made possible by volunteers, whether it is running sports clubs, friends of local parks groups or lunch clubs," said Neil Cleevely, acting chief executive of the National Association for Voluntary and Community Action.
"It would be good to see the value of all that great work that volunteers do being recognised in this way."