Cameron hints at EU agreement on Russia sanctions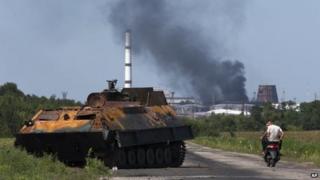 David Cameron has said he and fellow European leaders have agreed that "strong" economic sanctions should be imposed on Russia as soon as possible.
The prime minister was speaking ahead of Tuesday's meeting of EU ambassadors in Brussels in which details of measures are expected to be finalised.
Financial, defence and energy sectors are among those likely to be targeted.
Mr Cameron is also to meet the British families of those killed in the crash of flight MH17 in eastern Ukraine.
The crashing of the Malaysian Airlines passenger plane, killing all 298 people on board, has fuelled calls for tougher EU action.
Western nations have said there is growing evidence that the plane was hit by a Russian-supplied missile fired by rebels. Russia has denied supplying heavy weapons to the rebels, and Russia and the rebels blame Ukrainian government forces.
Any new EU sanctions could come into force within 24 hours of a deal being reached between the EU's 28 member states.
Conference call
Ahead of that meeting, Mr Cameron said he and his French, German and Italian counterparts had agreed on the need for further action against Moscow in a conference call with US president Barack Obama.
In a statement, No 10 said that Moscow had failed to take the necessary steps to de-escalate the conflict in eastern Ukraine, such as stopping the flow of weapons across the Russian-Ukrainian border.
"Indeed the latest information from the region suggests that even since MH17 was shot down, Russia continues to transfer weapons across the border and to provide practical support to the separatists," a Downing Street spokeswoman said.
No 10 said the five leaders had agreed that the international community "should therefore impose further costs on Russia and specifically that ambassadors from across the EU should agree a strong package of sectoral sanctions as swiftly as possible".
The BBC News Channel's chief political correspondent Norman Smith said discussions were focusing on restricting the access of Russian banks to finance from the City of London and also a ban on future defence and high-tech energy exports from the EU to Russia.
Military exercises
Sources, he suggested, said the backing of the Italian Prime Minister Matteo Renzi was seen as significant in securing the backing of those EU countries more sceptical about sanctions.
At the weekend, the EU added 15 individuals and 18 entities to its sanctions list targeting Russians linked to the separatist uprising in eastern Ukraine.
They included the Federal Security Service (FSB) and foreign intelligence heads, and the president of Chechnya.
The number of Russians subject to EU asset freezes and travel bans is now 87. Two Crimean energy firms were joined on the list by 18 other entities.
The EU says it is targeting those who "actively support or are benefiting from Russian decision makers responsible for the annexation of Crimea or the destabilisation of eastern Ukraine".
Meanwhile the UK is sending a "full battle group" of 1,350 personnel to take part in a Nato exercise in Poland in October.
It is Britain's biggest deployment to the region since 2008 and is seen as part of a series of events supporting allies in Eastern Europe and the Baltic States.