David Cameron accused of Tyne Tees mix-up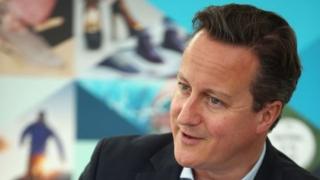 David Cameron appeared to get his north-east England regions mixed up as he trumpeted the latest economic growth figures in a BBC radio interview.
In an interview with BBC Tees, the prime minister kept referring to examples of economic revival on Tyneside - 40 miles further north.
Presenter Lisa McCormick said: "You keep mentioning the River Tyne.
"That's not our region prime minister. I'm sorry, we are the River Tees."
Mr Cameron replied: "I'm sorry, I thought I was doing..." before going on to point out that the government was investing £90m in the Tees Valley.
Ms McCormick then pointed out that the government was pouring £470m into Greater Manchester and £440m into the south-east of England.
She told the PM: "£90m seems like a drop in the ocean to me."
During a BBC Essex interview in Colchester earlier this year, Mr Cameron had to apologise after he appeared to suggest he was in neighbouring Chelmsford.
Tom Blenkinsop, Labour MP for Middlesbrough South and East Cleveland, said Mr Cameron was "out of touch" and not interested in Teesside.
He said: "Over the last four years of David Cameron we've had a Tory peer calling the region 'desolate', frequent misspellings of Teesside in official Number 10 letters and now the prime minister himself can't even take the basic cue of appearing on BBC Tees to get the hint that our river is the Tees and not the Tyne.
"This just highlights how David Cameron is out of touch with the region and completely disinterested in places like Middlesbrough, Stockton, Redcar, Hartlepool and East Cleveland."