Green Party proposes wealth tax on assets over £3m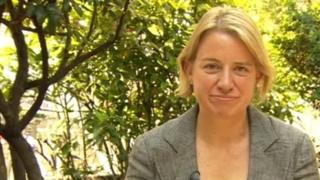 A wealth tax on people with assets of more than £3m should be imposed, the Green Party says.
Setting the tax at 1% to 2% would raise between £21.5bn and £43bn annually from the wealthiest 1% people in the UK, the party, which has one MP, says.
People worth over £3m could afford to pay more to reduce inequality in the UK, and it was in their interest to do so, party leader Natalie Bennett said.
"Inequality is a problem that we have to tackle," she told the BBC.
"To put the sums into context, we are talking about 15% of the cost of running the NHS," Ms Bennett said.
"We're not talking about dinner ladies who have paid their whole lives into a pension pot. It's people who have very large assets - frankly, we're talking about people who can afford it."
In its analysis of the feasibility of the policy, the Green Party of England and Wales argues that the UK is the seventh most unequal country in the OECD, an organisation which includes as members 34 of the world's richest countries.
"With a resources boom at the top and a cost-of-living crisis at the bottom we think the time has come to introduce a tax on wealth to ensure the richest pay their fair share back to society," it says
"A wealth tax is one of a package of measures, including the introduction of a Living Wage and company-wide pay ratios, which the Green Party is calling for to address persistent inequality."
The party also notes that varying forms of wealth tax exist in France, Spain, Iceland, the Netherlands, Norway and Switzerland.