Labour wants Grieve human rights advice to PM published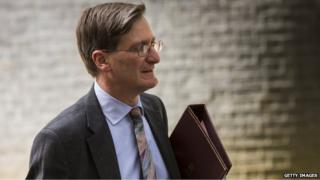 David Cameron is under pressure from Labour to publish legal advice by Dominic Grieve on plans to give MPs a veto on human rights court rulings.
Mr Grieve, who was sacked last week as Attorney General, has said the PM risks comparisons with Vladimir Putin if he presses ahead with the plan.
Shadow Justice Secretary Sadiq Khan has written to Mr Cameron to urge him to publish Mr Grieve's advice.
Downing Street rejected Mr Khan's call to publish the advice.
A spokesman said it was "legally privileged" and any ministerial correspondence about the subject was private.
Mr Khan claims Mr Grieve, a supporter of the European Convention on Human Rights (ECHR) may have been sacked because his advice on Britain's relationship with the convention was not what Mr Cameron and other ministers wanted to hear.
'Road crash'
The prime minister is expected to make diluting the influence of the ECHR the centrepiece of his Conservative Party conference speech in the autumn as he steps up efforts to win back UKIP voters ahead of May's general election.
Mr Cameron has said he has had enough of the Strasbourg-based court's "meddling" in cases such as that of radical Muslim cleric Abu Qatada, who used it frustrate attempts to deport him to his home country for eight years.
Many Conservatives have also expressed frustration at the court's demands to allow UK prisoners the right to vote in elections and to give prisoners serving life sentences the right to be considered for parole after 25 years.
But in an interview with The Times on Tuesday Mr Grieve, who was the government's chief legal adviser for four years, called Mr Cameron's plan to change Britain's relationship with the court a "legal road crash", which would cause the country to suffer "serious international reputational damage".
Mr Grieve claimed Downing Street tried to prevent him seeing a paper written by Justice Secretary Chris Grayling on how to weaken UK obligations to the Strasbourg court.
The paper set out how the Conservative manifesto would include plans to "to prevent the government from implementing its international obligations, except when Parliament rules that we should", said Mr Grieve, a move he claimed would leave Parliamentary sovereignty "open to abuse".
"It is not dissimilar from Putin using the Duma to ratify his annexation of the Crimea. Putin will say, well it's now lawful, the Duma has said so," said the former minister
In his letter to Mr Cameron, Mr Khan says Mr Grieve's "very strong warnings" had major implications for the UK's standing in the world.
'Slippery slope'
"The role of the Attorney General is to provide clear, unbiased legal advice to the government," writes Mr Khan.
"From his comments in The Times it is clear that Dominic Grieve was deliberately excluded from discussions on our future relationship with the European Court of Human Rights."
Mr Khan urged the prime minister to publish legal advice provided by Mr Grieve on the relationship between the UK Government and the European Convention on Human Rights, and any change to UK obligations under the European Convention on Human Rights.
He also urged the publication of any legal advice on the subject from Mr Grayling's department, the Ministry of Justice, and any relevant ministerial correspondence, particularly from the Foreign Office, about the impact of any change on the UK's international standing.
Liberal Democrat Justice Minister Simon Hughes said Britain's membership of the European Convention on Human Rights was important "because it allows us to stand up for those who are struggling to secure these basic rights themselves and look in the eye countries and regimes who are failing to live up to these standards".
He added: "The ECHR, and Britain's own Human Rights Act are marks of a civilised society and there is absolutely no prospect of Britain withdrawing from the ECHR while there are Liberal Democrats in Government."