Labour's Frank Dobson to quit as MP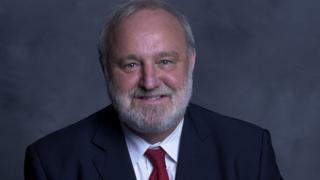 Veteran Labour MP Frank Dobson has confirmed he will stand down at the general election next year.
Mr Dobson has represented Holborn and St Pancras in London since 1979.
The former cabinet minister said he had "decided to pack in when people are stopping me in the street to say they hope I am not going."
Labour leader Ed Miliband thanked Mr Dobson, describing him as "one of parliament's finest" and saying he "will be sorely missed".
'Better place'
Mr Dobson was made health secretary when Tony Blair swept to power in 1997.
He then stood as Labour's candidate to be the first mayor of London in 2000 and returned to the backbenches after finishing third in the race.
From there, he spoke out against a number of Labour's policies, including the Iraq War and top-up fees for students.
Mr Dobson said in a statement: "It has been an honour to represent the people of Holborn and St Pancras for all these years and to have made at least some contribution to making it a better place to live."
Wise words
Mr Miliband said: "Throughout his 35 years in parliament he has fought for many causes, most notably our NHS, including his time as Labour's first health secretary for 18 years, but he has always put the people of Holborn and St Pancras first.
"I will miss his friendship, his wise words and his sense of humour. "We wish Frank the very best. "
Labour MPs also paid tribute to Mr Dobson, who secured a majority of almost 10,000 at the last general election.
Shadow Northern Ireland secretary Ivan Lewis tweeted: "Frank Dobson falls into category 'they don't make them like that anymore'.
And David Lammy described him as a "great guy and tireless campaigner".