Remploy Employment Services to be privatised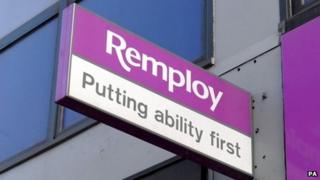 Remploy, which once ran factories employing disabled people, is to be privatised, Employment Minister Esther McVey has announced.
The body is currently owned by the government and aims to support disabled people entering mainstream jobs working alongside non-disabled colleagues.
Ms McVey said "a significant stake" would be offered for sale to investors.
The result would be a joint venture with employees also holding "an interest" in the company, she said.
Further details are expected to be unveiled in the next week.
In a written ministerial statement, Ms McVey said: "The department will have a contractual arrangement with the new company to continue Remploy Employment Services' national delivery of Work Choice and other departmental contracts and agreements which are expected to be transferred as part of this process.
"The partner/investor will need to demonstrate the commitment, capacity and capability to continue the delivery of Work Choice and continue to grow the business in line with Remploy's mission.
"We will ensure that the Remploy pension scheme continues to be funded and that the accrued benefits of members are protected.
"Our key priority during this process will be to ensure that Remploy Employment Services becomes an independent sustainable business which continues to support disabled people in finding and remaining in employment."
Remploy sold or closed its remaining factories in 2013. Remploy says on its website that in 2012/13 it found "more than 17,500 jobs in mainstream employment for disabled people and those facing complex barriers to work".