Minister's illegal immigrant cleaner arrest criticised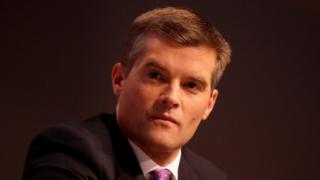 Keith Vaz has accused immigration officers of using heavy-handed tactics over the arrest of a government minister's illegal immigrant ex-cleaner at her daughter's wedding.
The Home Affairs committee chairman claimed 20 officers had been used to detain Isabella Acevedo.
His claim was based on a report of the incident in The Guardian.
But the Home Office said only seven immigration officers and one police officer had taken part in the arrest.
Immigration minister Mark Harper was forced to quit when Miss Acevedo was found to be in the UK illegally.
He was returned to the frontbench as a work and pensions minister in last week's reshuffle.
Miss Acevedo, a Colombian national, had worked as Mr Harper's cleaner for seven years until February, when he discovered she did not have leave to remain in the UK.
She was arrested and detained by immigration enforcement officials on Friday, at Haringey Town Hall, in North London, minutes before her daughter was due to be married.
'Keystone cops'
Mr Vaz, chairman of the influential home affairs committee, asked Immigration Enforcement Chief Mandie Campbell why 15 immigration officers and five police officers were needed to make the arrest, accusing them of behaving like the "Keystone cops".
"Why did you send 20 people into this wedding, did you think she was going to run away?" asked Mr Vaz.
Mrs Campbell replied: "We were not aware of her location at the time. We visited the last addresses that were known for her and she was not present at any of those addresses.
"We continued to search for her. We were notified by a registrar of a potential suspicious wedding, which involved the lady's daughter who was also in the country unlawfully.
"And as a result of that notification we mounted an operation to go to that wedding in order to apprehend both people."
She said the bride was "subject to enforcement proceedings" but not arrested.
"We did arrest the lady and we did arrest another individual who was present at the wedding, who was in the country unlawfully," she added.
'Sham marriages'
Defending the operation, she said it had been a "high profile case" and officers had gone there based on a "risk assessment of the number of people we thought we might encounter" after searching for her at several locations across London.
The Home Office later contacted the BBC to say that the actual number of officers involved in the operation had been less than claimed by Mr Vaz and reported in the media.
Mrs Campbell told the home affairs committee 1,300 "sham marriage" ceremonies were raided by immigration officials last year, with 720 arrests made during these operations.
That was a significant increase on last year, which she said was down to a substantial rise in the number of suspicious weddings reported by registrars.
Mr Harper had paid Miss Acevedo £30 a week for four hours of cleaning and ironing at his Westminster flat. He claimed most of the money back from his parliamentary expenses, a total of more than £2,000 over the seven years she worked for him.
In his resignation letter to David Cameron, the minister said he had checked her immigration position in 2007 but it was only when he asked the Home Office to confirm her legal status that he discovered she did not, as he had thought, have indefinite leave to remain.