175,000 migrants 'missing', says National Audit Office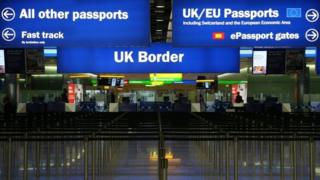 The Home Office still does not know if more than 175,000 people who have no right to be in the UK have left or not, the National Audit Office has found.
All have been refused temporary or permanent migration but their whereabouts are not known.
Investigators are clearing cases at the rate of 3,534 a week but new ones are replacing them at a similar rate.
The figures were in a National Audit Office report, which also attacked £350m wasted on a failed IT scheme.
The "migration refusal pool" - people whose temporary or permanent migration application has been refused but whose whereabouts is unknown to the authorities - makes up a major chunk of the Home Office's immigration backlog, which currently stands at 301,000 cases.
Capita audit
The refusal pool was set up in 2008 but its existence only came to light in 2012 when it was discovered by the chief inspector of immigration, John Vine. It stood at 174,000 cases at that point.
The Home Office brought in private contractor Capita to carry out an audit of 150,000 cases to identify any errors in the records, check if people had left the country and try to contact them if they had not.
The company was kept on after its initial audit and by the end of last year had worked its way through 248,000 migration refusal pool cases.
Of those, 47,300 people had left the country already - and a further 50,000 could not be contacted because their details were missing or had not been entered into the system correctly.
But by far the biggest number - 121,000 - could not be contacted because their addresses turned out to be false or out of date. The Home Office said this group also includes duplicated records and people discovered to have been granted leave to remain via a different route or who are involved in a judicial review.
These cases have been sent back to the Immigration Enforcement directorate - the new government agency set up last year when the Border Agency was split in two - for further investigation.
The number of old cases in the refusal pool went down by 80,000 in 2013-14 but they were largely offset by new cases entering the system - and there are currently 3,354 cases flowing into the system every week and 3,673 flowing out. The headline figure went down 8,000 through 2013/14.
'Risk of errors'
The National Audit Office said investigators' efforts had been hampered by the quality of the data available to them on the department's out-of-date casework database and paper-based records.
"Poor controls in the Casework Information Database increases the risk that staff fail to input the minimum standard information required," said the report.
"Transferring data manually - from paper to IT systems - increases the risk of errors and there is no single source of reliable information."
The Home Office commissioned a new, £350m immigration casework system in 2010 but it failed to work properly and was shut down last August.
Another new IT system has now been commissioned - at an expected cost £209m, the NAO report says.
And it is expected to incur further costs to keep the old system, which regularly "freezes" and is incapable of linking with other government systems, running until the new one comes on stream in 2016/17.
Amyas Morse, head of the NAO, said: "The Home Office has started making significant changes since the agency was broken up and has made progress in some areas.
"We would have expected greater progress by now though in tackling the problems we identified in 2012 in areas such as specific backlogs and IT.
"Among our recommendations is that the department prioritise outstanding backlogs and act to prevent the cases that it classifies as unworkable building up into backlogs."
Immigration and Security Minister James Brokenshire said the NAO report showed the government's decision to split the border agency into two directorates and bring it back under direct Home Office control was "the right one".
"I'm pleased the NAO has found that our changes are already delivering improvements, including cutting immigration application times by 25% and embedding a culture that is more focused on improving performance in the future.
"As we said when we took the decision to split up UKBA, transforming our broken immigration system will take time, but our changes are building a system that is fair to British citizens and legitimate migrants and tough on those who abuse the system and flout the law."