Ambulances could save local buses in isolated areas - MPs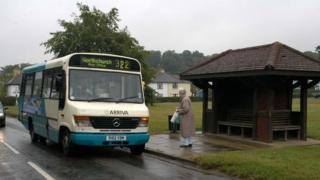 English councils should join forces with ambulance and school bus services to restore public transport to cut-off areas, says a committee of MPs.
The Transport committee warns that funding cuts have wiped out bus services in areas with poor transport links.
Hopes that voluntary groups would plug the gap are "unrealistic", say the MPs.
Instead local authorities should look at ways of pooling resources with other transport providers.
Paramedics in ambulances are sometimes used to transport people to and from non-emergency hospital appointments, the report argues, but that money would be better spent on helping to provide local bus services.
Money from education budgets could also be used to bolster local buses, the MPs say, but the plan would require different agencies to work together and share resources "for the greater good".
'Total transport'
The MPs point to projects in Norfolk and Greater Manchester, where NHS transport has been integrated with local buses, to provide "total transport".
"That new approach could revolutionise transport provision in isolated communities by making more efficient use of existing resources.
"We recommend that the DfT (Department for Transport) initiates a large-scale pilot to test the concept in practice."
The report stresses that it is not just rural areas that feel cut off from public transport but also some towns and suburbs.
"Policy makers sometimes equate 'isolated communities' with 'rural communities', but we found that isolated communities also exist in urban and suburban areas.
"We recommend that the DfT drafts a definition of 'isolated communities' for use across central and local government, which should be used to target scarce resources."
The reports highlights soaring fares and poor availability of bus services in many urban areas outside London.
'Community transport'
But it also urges the Department for Transport to subsidise public transport in of Britain's most geographically isolated communities, the Isles of Scilly, which it says have been hit by a dramatic increase in fares in the past two years.
The report also stresses the importance of community transport but says central government and local authorities "are being unrealistic if they expect voluntary community transport projects to compensate for decreased bus services".
Committee chairman, Labour MP Louise Ellman, said: "Old and young, unemployed people, those on low incomes and disabled people who live in isolated communities rely on passenger transport."
She said the committee was concerned that "subsidised bus services continue to disappear as funding is cut", even though the central government grant to local authorities to subsidise "socially necessary" bus was protected from further cuts in Chancellor George Osborne's 2013 spending review.
A Department for Transport spokesman said: "We know that bus services are vital transport links across England. That is why the department is providing protected funding until 2016 to run bus services and keep ticket prices down."
But Labour said bus fares had gone up and passenger numbers down under the coalition government and "communities have been left isolated".
"Older, younger, disabled and unemployed people in particular have borne the brunt of this unfair government.
"Only Labour will give transport authorities the powers they need to get people back on the bus."