Nick Clegg defends Sunday Brunch interview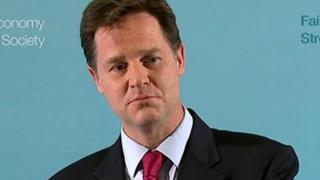 Deputy Prime Minister Nick Clegg has defended his decision to appear on a light-hearted Sunday TV programme, after criticism from some MPs.
Mr Clegg baked a cake and drank tequila on Channel 4's Sunday Brunch programme.
Conservative MP Peter Bone told the Daily Telegraph this was "bizarre" given the crisis in Ukraine.
But the Lib Dem leader said he had also discussed Ukraine on the programme., adding: "I think it's right always to try and reach out to people."
Mr Clegg was asked at a press conference whether it had been bad judgement to appear on the programme at a time of international crisis.
'Bizarre thing'
Mr Clegg responded: "It's a show which is watched by lots and lots of people, lots of young people.
"We talked about Ukraine, we talked about politics, we talked about government policy.
"I think it's important for politicians to get through to people who care about what is going on in the world as much as anyone else.
"Is the suggestion that people who watch Sunday Brunch don't care about Ukraine? That's not my experience."
Mr Bone had told the Telegraph: "When there's huge problems in the Ukraine and Middle East, it's a bizarre thing for a deputy prime minister to be doing. Perhaps it was a job audition for when he loses his seat at the next election."
And Labour MP Grahame Morris told the same newspaper Mr Clegg had demonstrated a "alarming, cavalier indifference" to the situation in Ukraine.
'Time to get tough'
A Lib Dem spokesman said: "It's important for politicians to be able to speak to a wider audience than those people who religiously read the political pages and watch Andrew Marr every Sunday.
"As Mr Clegg said on Sunday Brunch the political world often seems completely out of step with normal life and that is something we need to address."
"By taking a break from the normal schedule, the programme allowed Nick to speak about the plane crash and the ongoing situation in the Ukraine."
During his appearance on the programme, Mr Clegg said the tragedy had been "made all the more harrowing for all the families because they don't think their loved ones, their bodies, are being treated with the dignity and respect they deserve".
He said it was time "to get tough with the Russians, with Putin... I just think we have got to change gear and say 'enough is enough, you have got to pull back, you have got to stop supporting these people' because we can't carry on like this".
Some 298 people dies after Malaysian Airlines flight MH17 crashed in eastern Ukrian last week. There were ten Britons among them.
Ukraine and pro-Russian rebels have accused each other of shooting down the Boeing 777, killing 298 passengers.