Labour rules out immediate public spending increase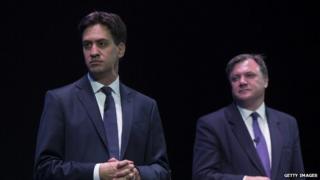 Labour has ruled out an immediate increase in public spending if it wins the next general election.
The party's national policy forum overwhelmingly voted against a motion calling on it to abandon its commitment to match the day-to-day spending plans of the coalition for 2015-16.
Shadow chancellor Ed Balls said Labour policy was based on "big reform, not big spending".
But the Tories accused Labour of wanting to run a £32bn budget deficit.
'Difficult decisions'
Mr Balls said: "The national policy forum has this weekend agreed a policy programme that is radical and credible and based on big reform, not big spending.
"The Labour Party knows that this Conservative-led government's failure to balance the books in this parliament means we will have to make difficult decisions after the next election.
"Party members have endorsed the tough fiscal position [Labour leader] Ed Miliband and I have set out. We will match the government's overall day-to-day spending totals for 2015-16.
"And we will balance the books, deliver a surplus on the current budget and get the national debt falling as soon as possible in the next parliament.
"But we will get the deficit down more fairly by reforming our economy for the long term and reversing David Cameron's top rate tax cut for the top 1% of earners."
'Wasteful spending'
BBC political correspondent Alan Soady says the leadership has seen off an attempt to force Labour to increase public spending. Some members of the forum wanted the party to commit to an emergency budget shortly after taking office.
The motion was defeated by 125 votes to 14, in a weekend of policy discussions.
Proposals committing Labour to new spending on housing and school meals were withdrawn at the forum in Milton Keynes.
The forum backed policy papers which are the first draft of Labour's election manifesto.
Earlier, Mr Miliband said there would be no return to the tax and spend policies of past Labour governments.
The Conservatives said Labour had not changed.
"Far from balancing the books, Ed Miliband still wants to run a £32bn budget deficit by the end of the next parliament," a spokesman said.
"That means more wasteful spending, more borrowing - and higher taxes to pay for it. That's exactly what got us into a mess in the first place, and hardworking taxpayers will pay the price."