Women must fight harder on pay, says Lib Dem Jo Swinson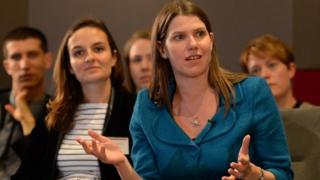 Women need to be more "assertive" when asking for a pay rise, a Lib Dem minister has said.
Jo Swinson said the gender pay gap was partly down to the tougher negotiating style of male employees.
Her comments come as the Lib Dems unveil proposals to force big firms to publish what they pay male and female staff.
The idea is to shame businesses into equal pay - but critics say that does not address the causes of the gap.
The coalition introduced a voluntary scheme for firms to publish gender pay gaps but only 140 companies have signed up to it.
Lib Dem sources they have been unable to persuade the Conservatives to make the scheme compulsory - so will include the policy in their next election manifesto.
'Utterly unacceptable'
All companies employing more 250 people would be required by law to publish the average pay of male and female employees or face fines of up to £5,000 under the proposals.
Small and medium-sized firms would be exempt, to cut down on red tape.
The party says it is "utterly unacceptable" that the median hourly pay for women in 2013 was just £10.33, compared with £12.97 for men, meaning women were paid 20% less than men.
Women and Equalities Minister Jo Swinson said getting the pay gap out into the open would give women more ammunition in pay negotiations and shame firms, who might not even have been aware of a problem, into taking action.
"Part of the pay gap is about discrimination, part of it is unintentional," she told BBC Radio 4's Woman's Hour.
"Situations arise where men go in hard for higher pay and the women might not negotiate quite so hard and you end up with unequal pay which is not by design. It's not through some desire to be sexist on behalf of the company.
"But nonetheless making sure that information is gathered and that the company management are able to look at it and analyse it means they can take steps to address it."
Working mothers
She added: "I wouldn't like to suggest this is all women's fault and it is all up to them but at the same time I would encourage women to look at how they negotiate pay rises."
She urged women to be more assertive, adding: "The worst that can happen is that you will get turned down but, in a sense, there is nothing really to lose."
The CBI and Institute for Directors have both criticised the Lib Dem proposal, saying it is does nothing to address the "complex" underlying causes of the pay gap.
Emma Foley, of the Centre for Policy Studies think tank, said the pay gap increased dramatically for women over 35, as they left the workforce to start a family and faced "huge barriers" to get back into their careers.
"We are doing a massive disservice to these working mothers, and indeed women in general, to not acknowledge that there is a problem here and skating over it with putting in a measure like this, which doesn't tell the full story is just not the answer," she told Woman's Hour.
'Total flop'
She said the Lib Dem plan was also targeting the wrong businesses - small firms were far less likely to offer flexible or part-time working that helped mothers stay in the workforce.
Companies should make more effort to keep women who leave to have children in touch with the workplace, she argued.
But she backed Ms Swinson's call for women to be more assertive, saying they should ask male counterparts what they are earning and "not be so apologetic that they have a life outside the workplace and sometimes that will come first".
Labour equalities spokeswoman Gloria de Piero said the Lib Dems had had four years in government to "deliver pay transparency" but had done nothing.
"They even have a Lib Dem minister in charge of the department responsible. But instead they've refused to implement the power Labour put in place to do this and their 'groundbreaking voluntary approach' has been a total flop," she said.