Tories outline strike law manifesto pledge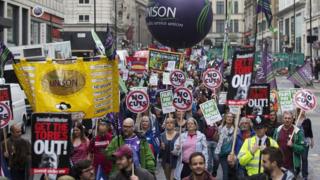 The Conservative Party has outlined plans to tighten the law on strike ballots if it wins the 2015 election.
Cabinet Office Minister Francis Maude said the Tory manifesto would include the requirement for at least half of eligible union members to vote in order for a strike to be lawful.
There would also be a three-month time limit after the ballot for the action to take place and curbs on picketing
Unions said the measures would make legal strikes "close to impossible".
And Labour said it was "desperate stuff by a Conservative Party that has given up any pretence of standing up for working people".
Time limit
It comes after a day of strikes earlier this month by public sector workers, including teachers, fire crews and council staff, triggered by disputes with the government over pay, pensions and cuts.
Ahead of the 10 July industrial action, Prime Minister David Cameron told MPs it was "time to legislate" to set a minimum turnout for a strike ballot.
Under the current law, a strike can take place if it is backed by a simple majority of those union members who vote - regardless of the level of turnout.
As well as the 50% threshold, Mr Maude also pledged to require unions to set out on the ballot paper the exact form or action they were proposing, with a vote on each aspect of the dispute.
Unions would also be required to give employers 14 days notice before taking industrial action, rather than seven days now.
The Tories would also end "rolling mandates" for industrial action with the three-month limit - citing the National Union of Teachers, which is using the result of a 2012 strike ballot to stage action now.
'Constructive role'
The Conservatives also want to tighten the rules on picketing, making illegal picketing a criminal offence and making the current code of practice on pickets legally binding.
This, they insist, would not take away the right to picket, but would ensure that laws limiting how, where and why picketing can take place are properly enforced, and better protect those who want to come to work.
But the BBC's John Moylan said the TUC was claiming that picket organisers would have to provide their mobile numbers to bosses to preventing texts being sent to "intimidate staff" during disputes.
Mr Maude said the reforms were "sensible and proportionate".
He said: "I've always said that unions can play a constructive role in the modern workplace.
"But I've also warned that the more that union leaders pushed for disruptive strike action without even persuading a majority of their members to vote, the stronger the case would become for changing the law."
The Tories' coalition partners have criticised the proposals, with Liberal Democrat Business Secretary Vince Cable branding them "simply potty".
'Fundamental shift'
Frances O'Grady, general secretary of the Trades Union Congress (TUC), said Britain already had some of the toughest strike laws of any democracy.
"These proposals are designed to make legal strikes close to impossible. Not a single MP would have been elected under these rules", she said.
"You cannot have proper negotiations between employers and unions without some power for the union side."
The changes would "fundamentally shift the balance of power in British workplaces in favour of the employer", she added.
The TUC is urging a change in the rules to allow union members to use their work computers, home laptops, tablets or smart phones to vote in future strike ballots.
Ms O'Grady said procedures for union strike ballots were "firmly stuck in the last century" and needed to be modernised as a way of strengthening industrial democracy.
She said unions would like to see more members participating in strike ballots and the existing requirements for them to send letters to members' home addresses to enable them to vote was outdated.
Labour's Shadow Cabinet Office Minister Michael Dugher said: "Most government ministers don't manage to get 50% of the popular vote at elections, the Tories didn't get anywhere near a majority at the last election and turnout in the elections they called on Police and Crime Commissioners was below 15%.
"Yet they have the cheek to lecture others.
"The current laws governing strikes were introduced by Margaret Thatcher - not exactly a friend of the unions.
"What we've seen in recent weeks is a government desperate for a fight with the unions rather than busting a gut to always try and reach negotiated settlements to avoid industrial action."