Labour MP apologises over Twitter 'slur' on Tory women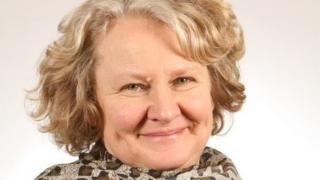 Labour is facing calls to take disciplinary action against an MP who made "insulting" comments about newly promoted Tory women ministers.
Helen Goodman apologised "unreservedly" after tweeting that their choice of clothes "really is the most interesting thing about them".
She initially said the remarks - about a fashion spread featuring the women - had meant to be "light-hearted".
She later issued a further apology, following a barrage of criticism.
Defence Minister Anna Soubry - one of those featured in the Daily Mail fashion story - said: "Helen Goodman's comments were deliberately insulting.
"She should personally apologise to every one of the talented women she has chosen to cheaply slur.
"[Labour leader] Ed Miliband needs to make clear that these comments are absolutely unacceptable."
'Disgraceful'
Another Tory MP, Sarah Newton, wrote a letter calling for disciplinary action against Ms Goodman to Labour's deputy leader Harriet Harman, who last week railed against the sexism against women still prevalent at Westminster.
"This disgraceful and demeaning slur damages not only those Conservative MPs referred to, but all women in politics," she wrote.
"Ms Goodman is a member of your shadow ministerial team. It is therefore incumbent upon you either to condemn her remarks, or pass the matter to Ed Miliband to take disciplinary action.
"Given that you have devoted much of your political career to advancing the cause of women in public life, it will be deeply disappointing if you ignore Ms Goodman's repulsive remarks."
Women's Minister Nicky Morgan, who this week replaced Michael Gove as education secretary, said there was "no place" for Ms Goodman's comments in modern politics - and criticised the speed of the shadow media minster's response.
"It shows how weak they are that it took two hours for her to delete her comments and no proper apology has been made. I hope her boss, Harriet Harman, will demonstrate some leadership on this and rectify the situation immediately," said Mrs Morgan.
A Labour spokeswoman said: "The Labour Party's view is that David Cameron's promises on increasing the representation of women are a sham. He said a third of all his ministers would be women. Fewer than one in four are. It is David Cameron who has failed."
'Puppets'
The Mail's spread on the "Queens of the Downing Street catwalk" sparked outrage on Twitter, with Green MP Caroline Lucas calling it an "all-time low".
Ms Goodman suggested it was the only coverage the newly appointed members of the government deserved.
"Mail's page on Tory women was fair: all are puppets who'll change nothing and their appearance really is most interesting thing about them," she tweeted.
She later tweeted an apology, saying: "I'm very sorry my last tweet offended some people. I intended it as a light-hearted remark".
Three hours later she added: "I was wrong in what I tweeted about Tory women ministers and I apologise to them unreservedly."