Daily Mail reshuffle story 'sexist', says Nick Clegg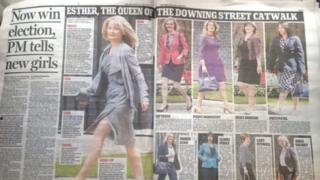 Nick Clegg has attacked the Daily Mail over a "sexist" double-page spread on the fashion choices of nine female MPs promoted in a government reshuffle.
The deputy PM said the piece, which suggested new Environment Secretary Liz Truss looked "a little bit too 80s' air hostess", was "demeaning".
But Esther McVey, one of the women featured, laughed it off.
She said it was "great news that people are talking about powerful women walking up in to Downing Street".
The Mail dubbed the employment minister, who remained in her job after the reshuffle but is now allowed to attend cabinet meetings, "The Queen of the Downing Street Catwalk," and a "thigh flashing vision in grey check by Vivienne Westwood".
'Out-of-step'
But, the piece added, her "thigh slit" was "a touch too revealing for a serious cabinet operator".
In an interview for the BBC local radio network, Nick Clegg said: "I just think it's so utterly out of date.
"It's just silly, sexist and just completely out-of-step with modern Britain that when we have some talented women coming into government, into the cabinet, the only thing that the Daily Mail can say is what clothes they wear and whether they resemble an air hostess.
"I think it's demeaning, old-fashioned and I think most people would just think it's completely out-of-step with modern Britain."
Mr Clegg, whose party has no female cabinet members and the smallest percentage of women MPs, retaliated on Wednesday afternoon by publishing a sarcastic message on his Twitter feed.
Alongside a link to a photograph of himself - in a navy suit, pale blue shirt and trademark yellow tie - he wrote: "What I wore to the office today. Fingers crossed the Mail approves. Hope I don't look too '80s cabin attendant'."
In the photo Mr Clegg wore a Hackett suit, with a shirt and tie from Marks & Spencer and Church's shoes.
'New boys'
The Daily Mail article triggered a backlash from feminists on Twitter, with Green MP Caroline Lucas claiming it was an "all time low" for the newspaper, saying she wanted to know what women running the country think, not what they're wearing.
The New Statesman produced a spoof of the Mail piece entitled "New boys on the block: Your guide to the Kings of the Downing Street catwalk," which ran through the fashion choices of the men at the centre of the reshuffle (they all wore suits).
Ms McVey, who has insisted she was not disappointed not to receive a more powerful new job in the reshuffle, said she was proud to be a role model for young women.
Speaking on a visit to the Brompton Bicycles factory with the prime minister, the former television presenter said: "If it takes a photo of some women getting a new job to start a whole generation of new young girls talking about what jobs 'I can do' then that's fine by me."
Asked whether the prime minister was concerned about the media's focus on the outfits and appearance of his new female ministers, David Cameron's official spokesman said: "Judgments for what goes into newspapers and other media channels is for those newspapers and media channels."
The Daily Mail has been contacted for a comment.