Peers criticise government over emergency data laws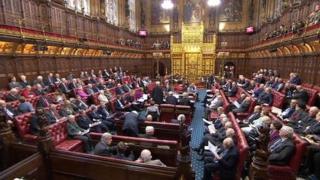 The government has come under fire in the Lords over emergency legislation giving the security services access to people's phone and internet records.
The Data Retention and Investigatory Powers Bill is set to pass through all its parliamentary stages in three days.
Home Office minister Lord Taylor of Holbeach warned that "lives could be lost" if the bill were not passed now.
But a string of peers said ministers should have found more time to debate the legislation.
Internet entrepreneur and independent crossbench peer Baroness Lane-Fox said: "It makes me very nervous that bills that require such technical expertise are given so little time."
'Abuse of Parliament'
She added: "As someone from the digital sector, it is disappointing to watch as legislation that directly affects our sector is so cursorily debated.
"It only goes to further people's belief that neither House understands the modern world or cares about their digital lives."
Lord Butler of Brockwell, the former head of the civil service, said it "beggars belief" that the government could not have introduced the bill weeks ago.
Labour peer Baroness Kennedy of the Shaws, a QC and civil liberties campaigner, said: "It is a serious abuse of Parliament, and the use of emergency procedures to enact laws that are controversial and have significant impact on individual rights is happening too often."
Lord Carlile of Berriew, a former independent reviewer of terrorism legislation, said Home Secretary Theresa May's reasons for fast-tracking the bill were "unconvincing".
"One day in the Commons and two here is just not sufficient for legislation of this importance," the Liberal Democrat peer said.
Former Labour security minister and head of the Royal Navy, Lord West of Spithead, also criticised the timetable, but concluded that the bill was "necessary and proportionate".
But former law lord Lord Lloyd of Berwick, an independent crossbench peer, added: "It is clear we must continue to be able to use communications data in court."
'Serious questions'
The front benches of the three largest parties all support the bill.
For the government, Lord Taylor of Holbeach told peers that the legislation merely continued the status quo, arguing it was "essential" that the powers contained within the bill were preserved.
Labour's shadow home affairs spokeswoman Baroness Smith of Basildon said she recognised the legislation was necessary, but added: "The government's handling of this issue raises serious questions.
"These are highly sensitive and crucial issues and in fast-tracking this legislation the week before the House of Commons rises, just two weeks before your Lordships' House goes into recess, when it could have been brought forward earlier, does not inspire the confidence that we and the public are entitled to."
MPs approved all stages of the bill on Tuesday - a process that conventionally takes weeks or months.
After giving the bill its second reading, at which the general principles of the bill are debated, on Wednesday, peers are now expected to complete all stages of the bill's consideration on Thursday.
There are well-established procedures for fast-tracking bills when Parliament believes it is necessary to do so.
The legislation was drafted in response to a European Court of Justice ruling in April, but is opposed by civil liberties campaigners.
Campaign group Liberty's director Shami Chakrabarti said: "I appreciate that this data can be vital in serious criminal investigations, but what's been going on increasingly is that because it's possible to capture more and more of everybody's data, the government is building a bigger and bigger haystack.
"It's disproportionate and Parliament should have had more than three days to look at such an important issue."