Lawson's climate-sceptic group hit by charity status row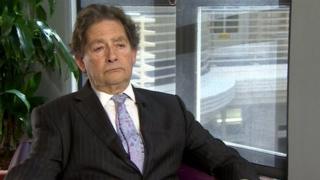 The climate-sceptic Global Warming Policy Foundation is to relaunch in September, after a complaint about its charitable status.
The Charity Commission has forced it to divide into a charitable educational arm and a separately funded political arm.
The change follows a charge that the main purpose of the foundation is political, not charitable.
The foundation said its new structure would make it even more effective.
It aimed to continue to promote debate about the costs of tackling climate change, it added.
But the complainant had argued that its information was often misleading.
'Inundated'
The Charity Commission will issue a formal statement on the changes in the coming weeks, but a spokesman told BBC News: "Some of the the Global Warming Policy Foundation's activities breached what is expected of an educational charity, namely that the material lacked balance and promoted a particular line of opinion.
"An organisation will not be charitable if its purposes are political."
The Global Warming Policy Foundation's director Benny Peiser denied that the body had been politically campaigning.
But he told BBC News: "We accepted the advice by the Charity Commission. They had been inundated by green campaigners.
"We will relaunch in September. There will be an educational charity which will publish our reports and there will be a campaigning organisation that will be able to do our work more efficiently and effectively, and therefore we think we will be doing even better."
The new format of the Global Warming Policy Foundation will mirror that of Greenpeace, which refers to itself as a campaign group with a charitable arm (the Greenpeace Trust funds scientific research).
The Charity Commission investigated the Global Warming Policy Foundation following a complaint by Bob Ward, a science communicator who works with Lord Stern's climate change team at the LSE.
He also complained that the foundation breaches charity rules by "continually disseminating inaccurate and misleading information".
'Lots of uncertainties'
The Charity Commission told BBC News it raised these concerns with the Global Warming Policy Foundation. Dr Peiser denied that and insisted that the organisation did not mislead.
The group has succeeded in challenging the previous cross-party consensus on climate change in Westminster, thanks to a combination of high-profile lectures and a regular newsletter.
It was launched as a charity in September 2009 by former Chancellor Nigel Lawson with the objectives: "To advance the public understanding of global warming and of its possible consequences, and also of the measures taken or proposed to be taken in response to it."
The Global Warming Policy Foundation made an immediate impact. Between November 2009 and February 2010, Lord Lawson and Dr Peiser were quoted more than 80 times in newspapers, according to James Painter at the Reuters Institute for the Study of Journalism.
"They do essentially have quite a simple message," he told BBC News. "We don't know enough about climate science; there's lots of uncertainties - so we shouldn't take action to reduce our dependence on fossil fuels."
Some mainstream climate scientists do acknowledge that the Global Warming Policy Foundation has usefully provoked them to address poorly understood issues such as the unexpected pause in global warming and the sensitivity of the climate to extra CO2.
Prof Piers Forster from Leeds University told BBC News: "Climate sceptics such as the the Global Warming Policy Foundation have really focused our attention to understand part of the climate problem we had poor understanding of. This is a good thing and it will make our science more robust."
The foundation has also won praise for some of its policy analysis. It led the way in highlighting the hidden costs of backing up renewable energy systems.
But mainstream scientists complain that its messages are often politicised and misleading.
"What I don't like about the Global Warming Policy Foundation," Prof Forster said, "is that they try to use uncertainty in science to destabilise the policy debate. They also criticise our scientific integrity and myself and my scientific colleagues do not really like their approach."
Follow Roger on Twitter @rharrabin