Michael Gove - Down but not out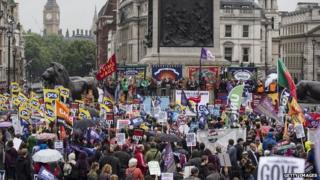 It is no exaggeration to say that many teachers will be celebrating the cabinet reshuffle tonight.
"Gove has gone" they will shout as they pour themselves another glass. Which is why, of course, the education secretary had to go.
He had, quite simply, made too many enemies in what he called "The Blob" - the educational establishment. The Tories need every vote they can get - including those of teachers.
What has shocked Westminster is his demotion to the job of Chief Whip - a post which is formally outside the cabinet (though the post holder does attend). So, can the prime minister really be punishing the friend who he goes to school quizzes with?
His allies insist the answer is No. They say Westminster watchers are confusing traditional cabinet rank for influence. Gove, they point out, will attend all the key cabinet committees - Home Affairs, Economic Affairs and National Security Council.
He will be ensure that the Tories do not become an accident-prone minority government as the Lib Dems seek to separate themselves before the election. He will lead the fight against Labour on TV.
Maybe, but Michael Gove has, nevertheless, been removed from a leading cabinet job before the flames reached him. He now continues not as a leading Tory figure in his own right but as "a friend of David and George".
His first job would appear to be to help them win the election. His second to make sure Boris and his old sparring partner Theresa May aren't the next Tory leader.