Ken Clarke says it was 'time to go' in reshuffle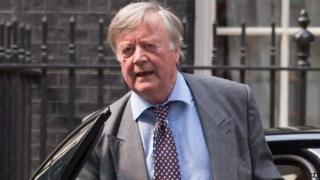 Ken Clarke said the "time was right" for him to leave the government, as it needed "refreshing" before next year's general election.
The veteran Conservative is one of a number of senior figures to leave office in David Cameron's most wide-ranging changes since 2010.
Mr Clarke said the prime minister was seeking a government that "looked like" the team he wanted to have after 2015.
He welcomed expected promotions for "talented" women in the party.
Mr Clarke has spent more than 20 years in ministerial office during his political career, including as home secretary, chancellor of the exchequer, justice secretary and latterly minister without portfolio.
'Decades'
In his letter accepting Mr Clarke's resignation, David Cameron said he would be "hugely missed" around the cabinet table.
Mr Clarke, who will stay on as an MP, told BBC Radio 4's Today programme he had expected to leave the government at the time of the last reshuffle in 2012.
He said he possibly could have been persuaded to stay on until the election but he would have been "amazed" if that had happened.
But he added: "Obviously this was the time to step down. If you do work beyond the normal retirement age, I think you should be prepared to decide you are going to go before people are starting to scratch their heads and think of reasons to get rid of you.
Mr Clarke said David Cameron did not have many reshuffles - this is only the second major one since the 2010 election - and now was the right time to do it.
"He wants a reshuffle that gives a government that looks like the kind of government we wants in the next Parliament," he said.
"That's what he has done. Guys like me who have done a few decades in government took the opportunity to retire."
'Too slow'
Mr Clarke said the Conservatives had been "too slow" to promote women MPs in the past, although he defended Mr Cameron's championing of women since 2010.
He said he would support, "with reluctance", all-women shortlists to pick Conservative election candidates, saying it was "ridiculous" how many ministerial meetings he attended that were all-male.
Mr Clarke said it would be bizarre to see the reshuffle through the prism of the UK's relationship with Europe, saying any British government should want to remain in the EU.
"If we go back to a neurotic analysis of whether it is a bit more Eurosceptic or a bit more pro-European, I will decide the British really have an incurable hang-up on the subject of the European Union," he said.
"The EU is the best way of affecting global political events, boosting our economy and the best way of protecting the interests of our citizens."
The UK could get "sensible reforms" in Europe if it stuck to an economic agenda focus on growth and jobs, he said.
He also said it would be "unthinkable" for the UK to seek to withdraw from the European Convention of Human Rights, saying it was the "bedrock" of the post-World War Two settlement and of British values
But the BBC's Norman Smith said Mr Clarke was a voice "from another age", with his pro-European stance "out of kilter" with the much more Eurosceptic leanings in the party.