Hague tells of UK evacuations from Gaza violence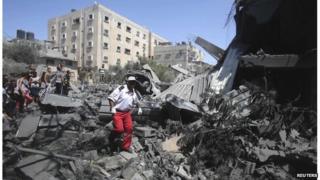 British nationals and their dependants wanting to leaving Gaza have been evacuated after a week of violence in the region, William Hague has told MPs.
The foreign secretary said 27 UK citizens had been safely evacuated.
Mr Hague said the UK was pressing for a ceasefire and to ensure medical help reached those caught up in violence he described as "deeply concerning".
Negotiations, he added, were the "only hope of breaking this cycle of violence and devastation once and for all".
Israeli air strikes on Gaza and rocket fire on Israel have continued, on the seventh day of Israel's operation against Palestinian militants.
Mr Hague told the Commons that at least 173 Palestinians had been killed and 1,230 injured in Gaza, while 240 Israelis had been injured in recent clashes.
'Human cost'
According to UN estimates 80% of the victims had been civilians, and more than a third were children.
"This is the third major military operation in Gaza in six years," he told MPs.
"It underlines the terrible human cost to both sides of the Israeli-Palestinian conflict and it comes at a time when the security situation in the Middle East is the worst it has been in decades."
While Israel had a right to defend itself against "indiscriminate attacks", he said it was vital that civilians in Gaza are protected, noting international humanitarian law requires both sides to distinguish between military and civilian targets and enable unhindered humanitarian access.
"The people of Israel have the right to live without constant fear for their security, and the people of Gaza also have the fundamental right to live in peace and security."
Mr Hague said the UK had "acted swiftly" to ensure the safe departure of British nationals wanting to leave the region.
"Late last night we successfully assisted the departure of 27 British nationals and their Palestinian dependants from Gaza through Israel to Jordan for onward travel," he said.