Motor races could be held on public roads says Cameron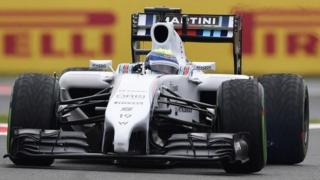 The government is to change the law to give local authorities the power to stage motor races on public roads.
Prime Minister David Cameron made the announcement on a visit to a new Williams F1 team engineering centre.
The government has conducted a consultation on the issue.
It is currently a criminal offence in England, Wales and Scotland to promote or take part in a motor race or trial of speed on a highway or public road without specific legislative approval.
In the past, Parliament has passed legislation, via a Private Member's Bill, to approve individual races such as the Jim Clark Rally and the Tour of Mull on an event-by-event basis but this process can take 18 months.
The government is now proposing to give local authorities the powers to suspend speed limits and some traffic regulations in certain conditions.
Speaking at the Williams facility in Oxfordshire, Mr Cameron said the move would be "great" for motorsport and would mean "more races, more events and more money coming into our country".
Tour inspiration
The success of last week's Grand Depart of the Tour de France showed the public's appetite for road races of both the two-wheel and four-wheel variety, he suggested.
It is thought that the change could result in as many as 20 races every year on public roads.
---
Analysis
By Andrew Benson, chief F1 writer, BBC Sport
This decision is not about a potential London Grand Prix, it is about making it easier to hold small-scale local events such as hillclimbs and rallies on closed roads.
It does remove one potential obstacle to a Formula 1 street race in London, but many more remain.
Speculation about such an event continues to rumble on, but F1 impresario Bernie Ecclestone looked into it carefully several years ago.
The conclusion was that logistically and, especially, financially it was a non-starter. Nothing has obviously changed on that front.
---
Mayor of London Boris Johnson, who has said he would like to bring an F1 race to London, said he strongly backed the idea of more street races.
"He is always interested in projects that attract jobs and bring growth," a spokesman said.
"He is positive that London would do a spectacular job of hosting an F1 Grand Prix. But it is impossible to say what the impact might be without detailed planning and research and the question of air quality and noise impact would have to be looked at very carefully."
'Expensive'
Bernie Ecclestone welcomed the announcement as a sign that the government recognised F1 was "not just a motor sport, but was powerful, good for the country and brings in money".
But he said this did not mean that staging a championship race in London was a given.
"The news is good, but I don't know whether you'd have street racing because it's not cheap to put on something that's safe," he said.
He said street racing was very expensive, but added: "If they ever get it together then we'll see what happens. At least it's a good sign, a step in the right direction."
The AA also welcomed the move, saying the 2012 Olympics and Grand Depart showed that residents can "adapt to road closures and well-planned restrictions" while enjoying the events themselves.
The prime minister's spokesman said the change would feature in the deregulation bill, which is currently being considered by Parliament.
It would apply in England and, subject to the agreement of the devolved governments, to Scotland and Wales as well.
Northern Ireland already has separate legislation for on-road and off-road motor events. It stages a number of high-profile annual events, including the NorthWest200, Ulster Rally and the Circuit of Ireland.