Vaz 'disappointed' at lack of detail on lost abuse files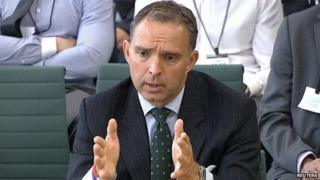 Keith Vaz has said he is "disappointed" that the Home Office has failed to provide MPs with a list of 114 lost files relating to child abuse.
Mr Vaz's home affairs committee requested the information after it questioned Mark Sedwill, the Home Office's top civil servant, on Tuesday.
Mr Sedwill said he would seek to publish a redacted version of the list.
NSPCC chief executive Peter Wanless is reviewing how the authorities handled child abuse allegations in the 1980s.
The review was triggered by questions about how a dossier of allegations given by former Tory MP Geoffrey Dickens to then home secretary Leon Brittan was handled by the Home Office, the police and prosecutors.
The so-called Dickens dossier was "not retained" by officials and during a Home Office review last year into documents relating to historical child abuse allegations, it emerged that a total of 114 files were identified as missing, destroyed or simply "not found".
In a letter to the Labour MP after his Commons appearance earlier this week, Mr Sedwill said he could not yet provide what Mr Vaz had asked for because the files contained personal data that needed to be blanked out.
But the civil servant said he had reviewed the list and most of the files "appear to have contained correspondence from MPs either asking about government policy or on behalf of constituents".
Mr Sedwill said hoped to provide redacted details of the missing files at the same time the Wanless review is published, expected to be within eight to ten weeks.
In response, Mr Vaz said: "I am disappointed that the names of the lost files have not been provided to the committee immediately, particularly considering that Mr Sedwill did not feel it necessary to view the details of the files a year ago when this first came to his attention.
"He has only done so since being asked to last Tuesday."
Mr Sedwill's letter also states that 494 Home Office staff were dismissed from the department between 2008 and 2014 - some of whom may have been axed for the maltreatment of files.