Lord Lawson says Cameron may have to back EU exit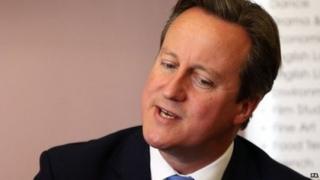 David Cameron may end up having to recommend that the UK leaves the EU, former Chancellor Lord Lawson has said.
The Conservative peer told the House magazine that the prime minister could have to reconsider his current support for the UK to stay in a reformed EU.
Mr Cameron wants to renegotiate the UK's membership and back an "in" vote in a subsequent referendum in 2017.
But Lord Lawson said the PM was unlikely to get "significant" changes and may have to rethink his position.
Lord Lawson, who wants Britain to leave the EU, also suggested Mr Cameron would have to consult Conservative MPs first before deciding whether to recommend an "in" or "out " vote in a future referendum.
The prime minister has said he is confident he will be able to secure sufficiently credible reforms to the EU as a whole and the UK's membership of the 28-nation organisation to urge the British people to vote to stay in.
Lord Lawson, who was chancellor under Margaret Thatcher, said Mr Cameron's pledge to hold a referendum if he is prime minister after the next election had united the party.
'Optimist'
But while the prime minister was a "great optimist" about his chances of success in a post-2015 re-negotiation, Lord Lawson said he was less hopeful and the "logic" of Mr Cameron's position may have to change.
"He (David Cameron) will have to make his own judgement on that and the Cabinet will have to discuss it and make their judgement.
"I am convinced that - I may be wrong, but from my knowledge of the European Union - that nothing of any significance is negotiable. Not least because anything of significance requires treaty changes and treaty changes have to be agreed unanimously, so it's no good just getting one or two countries on side.
"So I don't think it's on. But we shall see."
He added: "As of now his position is that he's firmly committed to recommending an 'in' vote...
"But I think he will have to reconsider his position in the light of what he is able to secure. He will know too that he has either got to persuade the parliamentary party overwhelmingly…or else he's got to reconsider his own position on this issue.
"Because the logic of his position is clear. He has said the European Union as it exists at present is seriously unsatisfactory, therefore some major changes need to be made. The logic of that position is that if you don't secure these major changes, you leave the European Union."
'Reduced influence'
Conservative backbenchers have reportedly demanded that they be consulted before Mr Cameron agrees to take the party into another coalition in the event of Hung Parliament next year.
Asked whether MPs would expect the same treatment ahead of a future referendum, he said there were "parallels" between the two scenarios.
"Whether he does it through formal consultation or informally, I think he will need to do that."
Lord Lawson, who has a house in France, said he had nothing against Europe but it is was not in the UK's interest to remain in a organisation where future changes were likely to diminish its clout further.
"Our influence on European Union law is bound to be less than it has in the past," he added. "There will be a solid eurozone bloc vote. If we oppose anything we will be overridden."
In the interview, Lord Lawson also called for the government to abandon its "absurdly expensive" project to build a high-speed rail line between London and the Midlands and for Owen Paterson to remain as environment secretary in a future reshuffle, expected to take place later this month.
The Times reported that Mr Paterson could be vulnerable in an overhaul of Mr Cameron's top team but the right of the party was "closing ranks" in an attempt to keep him in place.