Nigel Farage backs Australian-style immigration curbs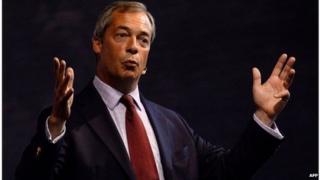 UKIP would restrict migrants over the age of 45 from coming to the UK, Nigel Farage has said.
He told LBC Radio his party would adopt "sensible" measures to control unskilled migration based on an Australian-points based system.
Those with criminal records and life-threatening illnesses would be barred.
Mr Farage also said he would clarify within weeks where in his home county of Kent he would stand for Parliament at the general election next year.
The UKIP leader said the centrepiece of his party's immigration proposals in its election manifesto would be a version of the points-based system introduced in Australia by its former prime minister John Howard.
'Part of us'
In Australia, migrants are required to answer a series of questions about their skills, for which they are awarded points. Applicants need at least 65 points or their request for a visa will be rejected.
Mr Farage said the approach was "sensible" and should be adopted in Britain.
"The Aussies have a points system and they say to come to Australia you must be under 45 years of age, you must have a skill or a trade that will bring a benefit to our country.
"They say if you have a life threatening disease, I'm sorry but we can't accommodate you. They say if you have a serious criminal record we won't have you...
"What they also say is we don't care whether you're black or white or yellow or what your religion is but if you come to our country and you come here to take citizenship you become part of us and you become part of our Australian dream, namely the integrationist message. That is exactly what we should be doing."
MPs' pay
UKIP argues that the UK will not be able to control overall levels of immigration from the EU and specify who can come to the country until it leaves the European Union.
The last Labour government adopted a points-based system for migrants from outside the European Union, which was extended by the coalition government.
Applicants are separated into five 'tiers', with people having to pass a points-based assessment to be eligible for a visa, although the system is generally seen as less restrictive than the Australian one.
In his LBC interview, Mr Farage also suggested that MPs could be paid up to £100,000 if the UK left the EU.
While there was no case for increasing MPs' pay at the moment, he said that representatives of a "sovereign Parliament that actually ran this country" could expect to be paid much more than the £67,060 they earn now.
"If we paid MPs the same as the local headmaster of the local comprehensive, that would be about right," he added. "It would be £90,000 to £100,000."
Mr Farage said he would confirm which constituency he would stand in at the general election by the end of the month. He has been linked with the Thanet South constituency, where the Conservatives recently choose a previous UKIP leader as their candidate.