Home Office handling of MP's abuse claim to be reviewed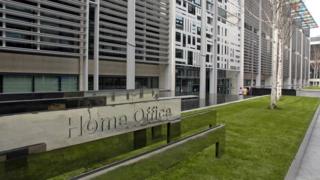 The Home Office is to appoint a senior legal figure to re-examine its handling of papers containing claims of child sex abuse by politicians in the 1980s.
They will assess whether a 2013 report on what happened to the papers was sound.
Former Home Secretary Leon Brittan says he gave them to officials.
The 2013 probe found no record of specific claims of abuse by prominent public figures. But it has emerged 114 files can no longer be located.
The Home Office has said that 114 files were identified as missing, destroyed or simply "not found" following that review.
It has also emerged that four cases of historic sex abuse were referred to the police following last year's report.
'Answers'
Home Office permanent secretary Mark Sedwill has written to the prime minister to inform him of the plans to appoint a senior independent legal figure.
It comes after David Cameron asked him to "find answers" about what happened to the material supplied by the late Tory MP Geoffrey Dickens.
The abuse claims were passed in the 1980s by Mr Dickens to Lord Brittan, who says he in turn handed them to officials.
Lord Brittan has since been criticised for his handling of that material.
An investigation conducted by the Home Office last year concluded that the "credible" elements of the claims with "realistic potential" for further investigation were passed to prosecutors and the police.
---
A review of a review
by Robin Brant, BBC Political Correspondent
A review of the review is the furthest David Cameron is willing to go.
The top civil servant at the Home Office will appoint someone from the legal profession to make sure the conclusions of an internal investigation carried out last year "remain sound" and "valid".
On the face of it this is about process; double checking.
The 2013 review certainly appeared thorough. It found "no record of specific allegations... of child sex abuse by prominent public figures".
But the prime minister continues to face mounting calls for a broader inquiry.
With the backdrop of decades of abuse by Jimmy Savile and this week's conviction of Rolf Harris, Labour say this latest internal review into how the government in Westminster dealt with allegations three decades ago is "movement".
But it falls "far short" of the child expert-led, over-arching inquiry that Ed Miliband has called for.
---
'Reassurance'
It found that other elements were either "not retained or destroyed".
A letter from Lord Brittan to Mr Dickens was also found during the review, in which he said that the allegations had been acted on.
Mr Sedwill said on Saturday that last year's review identified 527 potentially relevant files which had been detained by the Home Office, in addition to the missing or destroyed files.
In a letter to the prime minister, Mr Sedwill wrote that he would appoint a senior independent legal figure within the next week to assess the conclusions of that investigation.
He said this was to provide "additional reassurance" about the investigation last year, given that information was now in the public domain.
The Home Office has faced calls to explain why the material was not "retained" by officials.
Shadow home secretary Yvette Cooper said the prime minister should "demand a proper investigation into the allegations of child abuse not being acted upon by the Home Office".
Labour leader Ed Miliband said the department needed a "serious review" because "we need to understand what happened" to the information.
"All of these kind of allegations must be taken very seriously," he said.
No 10 rejected calls for a public inquiry into child sex abuse claims, but the prime minister said it was "right" to make investigations.
Conservative former minister for children and families Tim Loughton said it was vital the truth be uncovered.
"We've got to be completely transparent in this and the fact it's getting nearer to Westminster and nearer to politics makes it all the more imperative that no stone is left unturned," Mr Loughton said.
In a letter to MP Keith Vaz, Mr Sedwill wrote that the Home Office investigation did not find a single dossier from Mr Dickens, but rather several sets of correspondence over a number of years containing claims of sexual offences as well as references to broader issues.
'Occult activities'
This included "action taken regarding the import of pornographic material reported in some of the media this week," Mr Sedwill wrote.
"As well as these specific allegations, later correspondence from Mr Dickens focused on broader related policy issues, such as the risk of children and young people being drawn into occult activities.
"The review found no record of specific allegations by Mr Dickens of child sex abuse by prominent public figures."
The Home Office investigation identified 13 items of information about alleged child abuse.
Nine of those 13 were known or reported to the police, including four cases involving Home Office staff, Mr Sedwill said.
The remaining four items, which had not been previously disclosed, have since been passed to police.
Former minister David Mellor said there had been a "witch hunt" surrounding the handling of the so-called dossier.
Mr Mellor, who served under Lord Brittan as a home office minister in the 1980s, said the former home secretary was being unfairly "pilloried".
He said the material was spoken of within the department at the time, but it was "not a very substantive thing at all".
"People are talking about this document as if it's a carefully worked through expose of people. There's no reason to think it was," he said on his LBC radio show.
Mr Mellor rejected criticisms over the way Lord Brittan dealt with the document.
"I think it is so unfair that on the basis of what is becoming a witch hunt, he's being pilloried for handling a document... that he did pass on," he said.