Cruddas says Miliband is 'gamed out' by media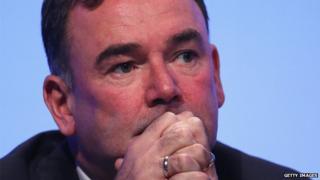 Labour policy chief Jon Cruddas has again been secretly recorded being critical of Ed Miliband and the direction of the party.
He said the Labour leader was "gamed out every day, every week" because of what he called "the news cycle".
He also suggested rows between "different camps" in Labour had not been resolved.
Mr Cruddas was previously recorded talking about the "dead hand" at the top of the party stifling policies.
In the latest recording, which has been handed to the BBC, Mr Cruddas expresses his frustration at the way Mr Miliband is "gamed out" by the "the news cycle, the media, levels of intrusion, the party management side".
'Radical plans'
He says Labour needs a "deeper sense of national renewal" and adds: "We're just becoming very retail rather than a deeper story about what we are trying to do."
He talks of "different camps" within Labour and said "a lot of things haven't been reconciled".
Speaking on the BBC's Newsnight, Shadow Chancellor Ed Balls said he had no idea what "gamed out" meant.
He added: "If you want to know who's actually at the moment being gamed out it's the British Prime Minister David Cameron being utterly outmanoeuvred by his European partners as he tries to placate Tory anti-European backbenchers."
A Labour spokesman said: "Jon Cruddas and Ed Miliband are united in putting forward the most radical plans for generations.
"They include building 200,000 homes a year, raising the minimum wage, reforming the energy market and devolving economic power to our great cities. These plans will help build a Britain that once again works for working people."
The exchanges were recorded by people posing as students who approached Mr Cruddas in the foyer of a Fabian Society conference on Saturday 28 June.
A recording of the conversation has been passed to the BBC. The source of the recording did not want to be identified.