Council finance broken, local government chief says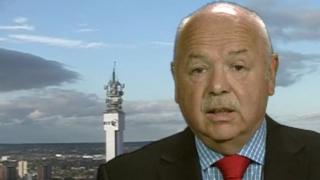 Councils in England and Wales should stop "moaning from the sidelines" and help redesign the totally broken local government finance system, the incoming Local Government Association head says.
David Sparks, who will be the LGA's first Labour chairman for 10 years, said local government needed to change.
He called for councils to be given more power, including the ability to keep a bigger share of rates and taxes.
He said local government had to be adapted for the 21st century.
21st century
Mr Sparks said the vote on Scottish independence should lead to a new constitutional settlement in England.
He told the BBC: "We need to ensure that the financial system, that supports local government, is fit for purpose.
"At the moment it's totally broken. We need to ensure that we're not talking about the 19th century model of local government, but we're talking about the 21st century.
"Politics, people, society - everything has changed, and local government needs to change as well."
Major rethink
Last month, the LGA warned councils in England were facing a £5.8bn shortfall over the next two years.
Ministers said those predictions were "doom laden and alarmist".
But Mr Sparks called for councils to be given more control of finances, including the ability to keep a bigger share of business rates and even a slice of income tax.
BBC local government correspondent Mike Sergeant said senior figures in local government were "starting to advocate a major rethink of the way services are provided and how they're paid for".
Mr Sparks, who is also Labour leader of Dudley Council, will become leader of the LGA after his party became the largest in local government in May's election.