Dennis Skinner loses seat on Labour's NEC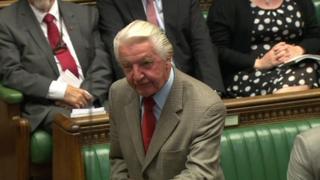 Veteran Labour politician Dennis Skinner has been voted off the party's governing body by fellow MPs.
Mr Skinner is being succeeded on the National Executive Committee by former housing minister John Healey.
Supporters of the 82-year old MP, who was first elected to the Commons in 1970, criticised the decision, saying it was "naive and immature".
A spokesman for Labour leader Ed Miliband said it was a matter for the Parliamentary Labour Party.
The National Executive Committee is the governing body of the Labour Party that oversees the overall direction of the party and the policy-making process.
It is made up of representatives from each section of the party - government, MPs, MEPs, councillors, trade unions and constituency parties - with elections held for the majority of the positions.
Two of the three representatives of the PLP on the committee - Steve Rotheram and Margaret Beckett - were re-elected but Mr Skinner did not garner enough support.
According to the Labour List blog, Mr Skinner got 121 votes compared to Mr Healey's 216 and Mr Rotheram's 133. Mrs Beckett had already been elected unopposed.
Both frontbench and backbench MPs expressed their surprise at the outcome.
Shadow international development secretary Jim Murphy said he was "really sorry" to hear the news and hoped Mr Skinner, who is on the left of the party, would "make a comeback".
Backbencher John Mann said it showed "naive, political immaturity in PLP for knocking Dennis Skinner off the NEC in election year" while John McDonnell said it showed "how distant from reality and the views of our members" that many MPs were.
Mr Miliband's office said it was a "PLP-run election".