MP Lucy Powell 'nodded through' in baby vote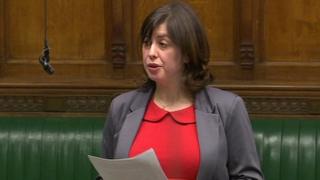 A Labour MP has been allowed to take part in a Commons vote without having to pass through the voting lobbies - because her baby son was with her.
Shadow Childcare Minister Lucy Powell is one of very few MPs to have been "nodded through" during a vote due to her childcare responsibilities.
The Liberal Democrat MP Jenny Willott negotiated the right in 2011 after the birth of her son Toby.
But very few MPs have taken advantage of it since then.
Nodding through was traditionally reserved for MPs too unwell to walk through the voting lobby.
Ms Powell, who had her one-year-old son, Tom, with her, said it was a sign of that Parliament was modernising.
"It felt very liberating, it is a good thing," the Manchester Central MP told BBC News.
"Tom is at the age where if I leave him, he'll be upset, particularly early in the evening when it's getting towards his bedtime. It's not fair to him to just dump him with a stranger for a few minutes whilst I disappear to vote.
"I didn't want to jeopardise my voting record just because I have a young son - and give the impression that young mums can't be MPs because their voting record won't be any good."
'Bizarre'
The concept of being nodded through is a longstanding one.
It requires an MP to be on the parliamentary estate at the time of the vote.
But, if it can be agreed by the parties, the MP's vote will be counted without them actually physically turning out to vote.
During the votes on the Maastricht Treaty in the 1990s, MPs were brought to Westminster by ambulance, to ensure they were on the parliamentary estate and so could be "nodded through" during crucial votes.
The decision to set a precedent to allow an MP to be nodded through because of childcare commitments came after agreement between the parties' whips - the MPs responsible for ensuring their colleagues turn out to vote.
Tuesday night's vote was on the Finance Bill.
In recent years, several MPs have complained about being denied the chance to vote because they had their children with them.
Liberal Democrat Business Minister Jo Swinson, who has just returned to government from maternity leave, said earlier this year the ban on taking babies into the voting lobby was "bizarre".
Jenny Willott, a fellow Lib Dem who covered Ms Swinson's maternity leave as a business minister, said she had had to hand her son Toby "to the nearest MP" several times a week in the past to allow her to vote and this had motivated her to campaign to secure a change.
Whilst she didn't convince the Commons authorities to allow her to take her son with her when she voted, she did negotiate the right to be nodded through.