MP tables bill to enshrine 0.7% aid target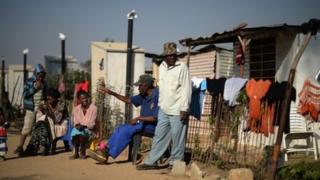 MPs are to be asked to pass legislation to enshrine the UK's commitment to spend 0.7% of its national income on international aid into law.
The government has indicated it will back former Scottish Secretary Michael Moore's private member's bill.
However, it is likely to expose coalition divisions, with many Tory backbenchers opposed to the idea.
The UK met the UN-inspired target earlier this year but critics say future governments may not do so.
Labour has long supported calls for a legally-binding target for a minimum level of expenditure on international aid. But critics say many of the existing foreign aid programmes are wasteful or unnecessary and money would be better spent in the UK.
Mr Moore came second in the annual ballot for private members' bills last month, meaning whatever bill he chose was guaranteed extended parliamentary time for debate.
Announcing his decision to propose the bill to Parliament, he said he was delighted that MPs would get to consider the issue.
"Since I intend to build on the work of people in our party, in the Conservatives and Labour, I hope the consensus will be maintained and the bill will pass," he said.
"For my part, I will work with the parties inside Parliament and with interested people outside to make that happen."
But Conservative MP Peter Bone said foreign aid spending should be based "on need" rather than a self-imposed target. "I can quite understand why a Liberal Democrat would want to go ahead with that because they don't believe in financial management and are keen to get rid of taxpayers' money," he said.
A previous bill on the same subject tabled by Labour's Mark Hendrick ran out of time in 2013.
The 0.7% target was first agreed internationally in 1970 by the United Nations General Assembly. In 2005, EU member states pledged to meet the target by 2015.