May's ex-special adviser joins social justice think-tank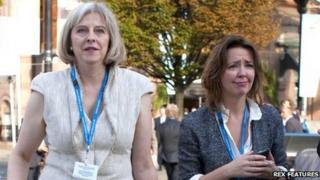 A special advisor who quit in the wake of a briefing row between Theresa May and Michael Gove is now working for a leading think-tank.
Fiona Cunningham, who stepped down last month as a senior aide to Home Secretary Mrs May, has been recruited by the Centre for Social Justice.
Her job will involve looking at modern slavery - an issue she worked closely with at the Home Office.
"I am really excited about joining the CSJ," she said.
Ms Cunningham's departure as a special adviser was announced by Downing Street at the height of a row over different approaches to tackling religious extremism in schools.
Mr Gove made a public apology and Mrs May was forced to deny authorising the publication of a letter to the education secretary criticising his department.
'Influential' think tank
Ms Cunningham has now become associate director at the Centre for Social Justice.
The CSJ, founded by Work and Pensions Secretary Iain Duncan Smith in 2004, aims to put social justice at the heart of British politics.
Ms Cunningham said she had "long admired" the think-tank's work and the influence it has.
"As we head closer towards a general election, it is important for a serious think-tank like the CSJ to be at the heart of the debate on the social issues that impact on the lives of people up and down the country," she said.
"I am looking forward to playing a part in that."
Frank Field, a former Labour welfare reform minister, described Ms Cunningham as "a hero" for ensuring legislation on modern slavery was brought forward based on the work of the CSJ.
CSJ director Christian Guy said Ms Cunningham was "deeply passionate about working for the social reform our country needs.
"We are focused on shaping a social justice agenda for British politics and Fiona's decision to join us will strengthen that work immeasurably."