Labour: Ed Miliband in £30bn local funding plan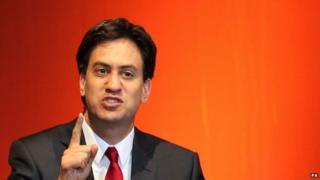 Labour would transfer £30bn of funding from central to local government to "begin reversing a century of centralisation", Ed Miliband has said.
The party is set to unveil a range of new policies, and writing in the Sunday Times, Mr Miliband also said he wanted a quarter of government contracts to go to small and medium-sized firms.
Meanwhile Labour's Jon Cruddas has been recorded calling party plans "cynical".
Labour said Mr Miliband and Mr Cruddas shared a commitment to "radical" ideas.
Writing about the party's plans, Mr Miliband said he would unveil a report about growth by Labour peer Lord Adonis next week.
He said the report "recommends transferring £30bn of funding to city and county regions over the course of the next Parliament".
"This is just one of many ideas he has to nurture skills, help small businesses thrive and ensure innovation flourishes," he added.
He said Labour's plans were not about "big spending" but rather "big reform".
Speaking on the BBC's Andrew Marr Show, Labour's shadow chancellor Ed Balls said the party had "big ideas" about devolution of powers, long-term infrastructure spending and manufacturing .
He said Labour wanted to introduce "more devolution of power to our cities and our county regions, more devolution of housing spending, job spend, skills and business support".
'Cynical nuggets'
It comes following apparent criticisms of Labour's policies from Mr Cruddas - a Labour MP who is also co-ordinator of the party's policy review.
In a recording of a talk he gave to think tank Compass last weekend, he expressed frustration at what he saw as the crushing of complicated ideas about policy into media-friendly soundbites.
He said "cynical nuggets of policy" which "chime with focus groups" were being prioritised by the party over "innovation or creativity".
BBC political correspondent Chris Mason said it was not the first time Mr Cruddas had "wondered aloud" about party policy.
"He doesn't mention Ed Miliband by name - and has praised his leadership in recent days," our correspondent said.
"But he contrasted what he saw as the vitality of ideas he heard from activists around the country with what he called the 'profound dead hand at the centre [of the party]'."
Mr Balls denied Mr Cruddas was "frustrated" with Labour's lack of big policies.
Asked about the reference to "the dead hand at the centre", Mr Balls told the Andrew Marr Show that Mr Cruddas was part of the Labour centre, adding that "we are all working together on these big reforms".
"I talked to John a couple of days ago. He is not frustrated, he is excited about his political agenda," he said.
"He is frustrated by the way in which one report of 250 pages gets reduced down to one headline."