Tory MPs unhappy at Cameron's EU tactics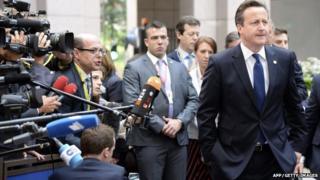 David Cameron may be facing not so splendid isolation on Europe but - on the surface at least - he enjoys widespread support from his own Conservative MPs.
One of the UK prime minister's regular critics even praised his "refreshing" tone towards other EU leaders - for example, warning them they will live to regret giving the European Parliament such influence over who will become the next president of the European Commission.
But beneath the surface -and strictly off the record - some Tory MPs are concerned about Mr Cameron's tactics and the political consequences of a Juncker presidency.
One former minister told me "this was always going to be a defeat", so the prime minister had "wasted a large amount of capital" and his determination to "stand up for UK interests" (as David Cameron himself puts it) has involved "a lot of posturing at a lot of cost".
Some felt that the prime minister could have got a blocking minority to prevent a Juncker presidency had he gone about it differently.
One said: "It all goes back to the decision to withdraw from the EPP [European People's Party]."
'Madness'
The Conservatives withdrew from the mainstream centre-right grouping in the European Parliament and set up their own smaller anti-federalist group, the European Conservatives and Reformists (ECR), in 2009.
One ex-minister said that meant Mr Cameron missed out on informal contacts with other right-wing leaders; another former minister felt it had been "madness" to leave the group.
There was criticism that he had made the argument against Mr Juncker "in the red tops" rather than behind closed doors, where it might have been more effective.
"Bitchy briefing" against Mr Juncker had not gone down well across the Channel.
But now that Mr Juncker will almost certainly be installed in the Berlaymont building that dominates Brussels' EU quarter, many MPs who spoke to me believed the prime minister's chances of getting the reforms he wants to see are slim.
One MP who said he wasn't afraid of a British exit from the EU nonetheless felt that this should not happen "by accident" - Mr Cameron would want to argue for a "Yes" vote, but without sufficient reforms that could be difficult to achieve.
'High stakes'
Others felt that a referendum in 2017 was now less likely because Mr Cameron's inability to persuade others to stop Mr Juncker could boost UKIP - and, in turn, prevent an overall Conservative majority in next year's general election.
One backbencher confided: "UKIP will split the vote across constituencies and make it less likely to get a referendum. It could put [Ed] Miliband in Downing Street. The stakes are really high."
But there could be a more immediate domestic consequence of Friday's events in Brussels.
A prominent Conservative backbencher said that, with Mr Juncker in place, Mr Cameron would now have to set out exactly what reforms he wants to see in Europe.
The prime minister has done this in broad terms in a newspaper article, but they wanted to see specifics this side of an election - and in the Conservative manifesto.
And, they said, if Mr Cameron remained vague on the issue, MPs would in any case simply draw up their own list of powers to be repatriated and put this in their election addresses next year.
And there is likely to be more of a clamour for the prime minster to set out a very different view of Britain's relationship with Brussels. As one MP put it: "It's crunch time."
As the Eurosceptic MP John Baron said on the record about the Juncker affair: "Having played the man, we now need to play the ball. We need greater clarity regarding our reform agenda in order to both better form alliances across the EU and convince a sceptical public at home that we are serious about reform."
So public plaudits for Mr Cameron sit alongside private - and sometimes not so private - pressure on him not just to promise reform but to be clearer about what he wants to renegotiate.