Hacking verdict: Prison for Coulson, questions for Cameron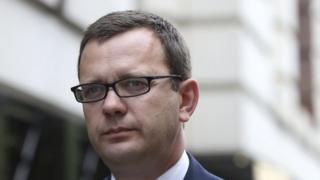 On the day David Cameron walked up to the door of Number 10 as prime minister, he was there - standing in a huddle of the staff who were about to move into new taxpayer-funded jobs in Downing Street.
Andy Coulson had been hired to connect the Tories to the parts of the electorate they struggled to reach. The man who usually stayed in the shadows was to lose his job, his reputation and almost certainly his liberty for listening to other people's phone messages.
Coulson was seen as a huge catch when he was first hired to be David Cameron's spin doctor. He was the former editor of the country's biggest-selling newspaper and a man with close connections to Rupert Murdoch - the most powerful media mogul in Britain.
As for allegations about phone hacking at the News of the World they were all in the past - weren't they? Again and again Cameron parried questions about hiring Coulson by saying that he deserved a second chance. It was a line he maintained even in 2009 after fresh allegations appeared on front pages in both Britain and America and even after he was warned to keep his distance from the man he now called his friend.
After the election the pressure on Coulson and Cameron grew as wave after wave of allegations were made against a man who was now a highly-paid public servant. Eventually, Coulson walked out of his job at Number 10 declaring that "when the spokesman needs a spokesman it's time to move on" but still insisting he'd known nothing about phone hacking.
But the evidence mounted of what had happened at the paper he'd once edited. After 168 years the News of the World came to a tearful end and the police arrested the former director of communications at Number 10.
The prime minister was forced to change his defence.
"I have said very clearly that if it turns out that Andy Coulson knew about the hacking at the News of the World, he will not only have lied to me, but he will have lied to the police. I have an old-fashioned view about innocent until proven guilty. But if it turns out I have been lied to, that would be the moment for a profound apology. In that event, I can tell you I will not fall short."
This story is, of course, not just about one man and the prime minister who hired him. It is about the hold the Murdoch empire had over British politics for years and the behaviour of those he hired.
Tonight a man who helped get his boss into Number 10 faces up to a new life - in prison. His former boss faces serious questions about his judgement.